Super Reunion: Super Junior's Kim Heechul & Kim Kibum Finally Meet After 10 Years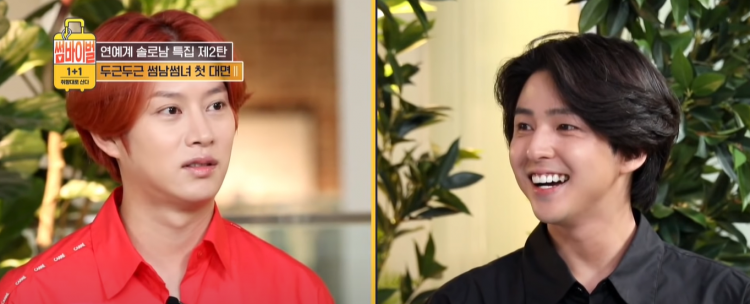 Debuting under the agency SM Entertainment in 2005, Super Junior is one of the most decorated and celebrated K-pop groups of all time. After being together for so long, the members of Super Junior have an unbreakable bond that will surely last forever.
Even members who left Super Junior, more specifically, the friendship between Heechul and former member Kibum.
Super Junior's Heechul and Kibum were trainees together and subsequently debuted together as members of Super Junior as well. Unfortunately, the best friends were split up after Kibum left Super Junior in 2009 to pursue an acting career.
After being apart due to schedules and bad timing, the two Super Junior best friends are once again reunited after not seeing each other in a decade in the show Heechul hosted, "Matching Survival 1+1," also known as "Some Vival 1+1".
When they began shooting for the episode, Super Junior's Heechul was already in tears due to missing Kibum.
As the years went by, the two Super Junior best friends remained in contact with each other. Heechul went on to share that Kibum does not know how to use technology and texts really slow. Regardless, they still text each other, making their bond unwavering.
After a decade of being apart, when Super Junior's Heechul and Kibum finally met, Heechul remembered how Kbum was such a great friend.
When they used to live together, Kibum would always take care of Heechul. According to the Super Junior member, back when he and Kibum lived together from 2005 to 2007, he went to nightclubs every night. On the other end of the spectrum, Kibum would just be at home and play games. Kibum would then cook ramen for Heechul when he came home intoxicated.
As the episode went on, Super Junior's Heechul and Kibum can be seen as really close as Heechul even mentioned that, "I wish my Kibum can be happy."
© 2023 Korea Portal, All rights reserved. Do not reproduce without permission.
Tags:
kwave
,
kwave news
,
kwave updates
,
reality show
,
Kpop
,
kpop news
,
Kpop updates
,
SM
,
SM artists
,
SM Entertainment
,
SM Entertainment news
,
SM Entertainment update
,
sm entertainment Super Junior
,
Super Junior
,
super junior heechul
,
Super Junior Kibum
,
Heechul
,
Heechul news
,
Heechul updates
,
kim kibum
,
Kim Heechul
,
kibum
,
kibum news
,
kibum updates
,
Matching Survival 1+1
,
Some Vival 1+1
,
Heechul MC
,
Heechul hosts