Heechul Shares Why He Wishes His Ex-Girlfriends' Success Post-Breakup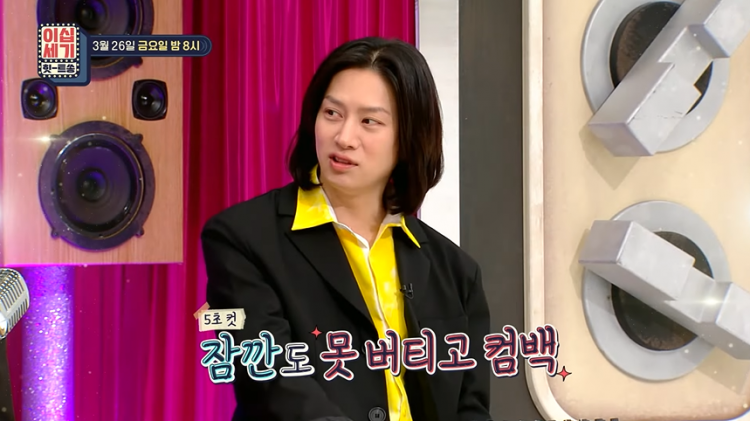 During the latest episode of KBS Joy's "20th Century Hit Song," Super Junior's Heechul and his co-host Kim Min Ah discussed the narration in Kiss's 2001 hit ballad "Because I'm a Girl." This sparked a revelation from the "Sorry, Sorry, Sorry" singer.
As they revisited the 2001 hit song, Heechul remarked that the narration of the interlude of "Because I'm a girl" was "kind of scary."
"Rather than a love song, it's a song that puts a curse on someone. It says, 'I don't want things to go well for you.'" Super Junior Heechul commented.
Because of Heechul's comment, his co-host Kim Min Ah asked the singer if this is the case for him in his past relationships.
"After a breakup, though, don't you think you'd feel annoyed if things went too well for your ex-girlfriend and she became too successful?" Kim Min Ah asked Heechul.
His co-host, as well as the viewers, received an unexpected and surprising response, though. Heechul revealed that he actually wants his ex-girlfriends to become more successful after their breakup.
Furthermore, the Super Junior member explained that "If, by chance, things go badly for them, I don't want people to say their lives were ruined because they dated Kim Heechul. So I'm always hoping they'll do even better and succeed even more."
Heechul's response just further proves how great of a man he is. Fans have since then expressed their admiration towards Heechul's character.
Some of the fans even commented:
"Omg I freaking love this man like how lol like who wouldn't want to date him. I really wish him and mom the best big time bc this man is definitely a keeper. Like he doesn't speak ill of others and try to be respectful of other personal lives like man I love it "
"You can really tell that heechul has a good head on his shoulders. Any girl would be lucky to have a gentleman like him."
"He's called "Condom Heechul" for a reason He always knows what right answer to give"
© 2023 Korea Portal, All rights reserved. Do not reproduce without permission.