RBW Queens! MAMAMOO Makes History As Only K-Pop Group To Achieve This Milestone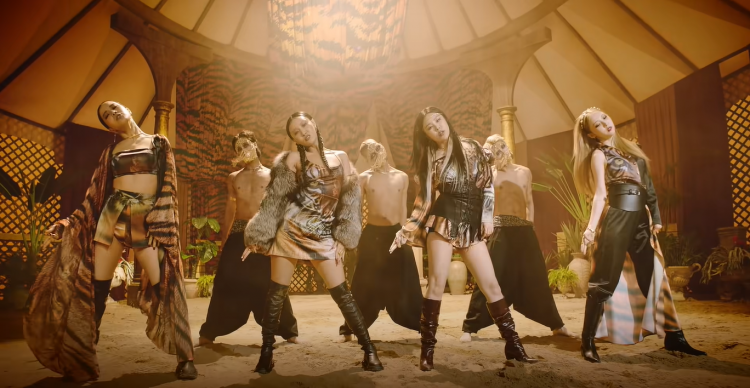 RBW's MAMAMOO formed seven years ago in 2014. The K-pop girl group made their debut with their single entitled "Mr. Ambiguous" on the 18th of June, 2014.
Arguably, MAMAMOO's debut is arguably one of the best debuts of 2014. Put into account all the doubts placed on the K-pop girl group, it was such an overwhelming start to the legendary career for the quartet.
Beyond group releases, MAMAMOO's Solar, Wheein, Moonbyul, and Hwasa are also immensely talented and popular soloists. The girls also support one another deeply during their solo ventures.
Due to their popularity as soloists, MAMAMOO has achieved a milestone no other K-pop group has ever done.
RBW's MAMAMOO has become the first and only K-Pop girl group to have all members release and create a solo album. It does not stop there, each member of MAMAMOO has sold their individual albums on Hanteo, selling over 50,000 copies.
With her recent comeback, Wheein has become the final member of MAMAMOO to drop a solo album with her recent "Redd." On the 20th of April, Hanteo revealed that MAMAMOO's Wheein had sold 50,000 copies since the release of "Redd."
Moreover, MAMAMOO Moonbyul's debut extended play entitled "Dark Side of the Moon," Solar's album named "Spit It Out," and the group's maknae, Hwasa, with her debut extended play "Maria" was also able to sell 50,000 copies after being dropped.
All the MAMAMOO members now have had immense success together as a group and as soloists since all of the members of MAMAMOO were able to sell 50,000 sales or more with their individual albums.
This further solidifies the legacy MAMAMOO will leave when it is all said and done. The quartet of Solar, Moonbyul, Wheein, and Hwasa are elite and will continue to be even more elite in the K-pop industry.
Additionally, Wheein is the only member to not have re-signed with RBW yet, but after her successful solo release, it is only a matter of time.
To read up why Wheein has not resigned yet, click here.
© 2023 Korea Portal, All rights reserved. Do not reproduce without permission.
Tags:
kwave
,
kwave news
,
kwave updates
,
Kpop
,
kpop news
,
Kpop updates
,
RBW
,
RBW Entertainment
,
RBW artists
,
RBW Entertainment news
,
RBW Entertainment updates
,
RBW Entertainment MAMAMOO
,
Mamamoo
,
MAMAMOO News
,
MAMAMOO Updates
,
MAMAMOO Hwasa
,
mamamoo solar
,
MAMAMOO Moonbyul
,
MAMAMOO Wheein
,
solar
,
Hwasa
,
Moonbyul
,
Wheein
,
Solar solo
,
Hwasa solo
,
Moonbyul solo
,
Wheein solo
,
MAMAMOO solo
,
Solar news
,
Solar updates
,
Hwasa news
,
Hwasa updates
,
Moonbyul news
,
Moonbyul updates
,
Wheein news
,
Wheein updates