RBW Entertainment's Latest Girl Group, PURPLE K!SS, Makes Their Debut With 'Ponzona'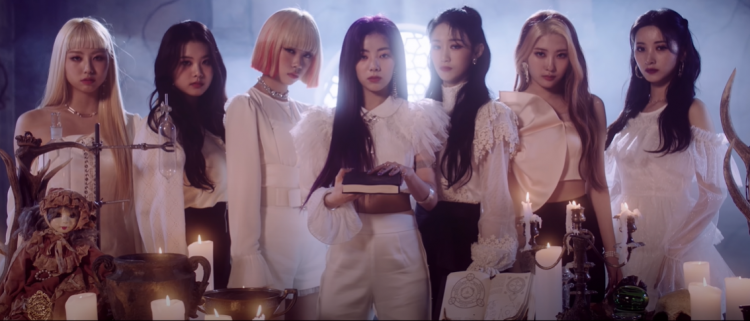 4th generation K-pop groups such as ITZY, Stray Kids, ATEEZ, aespa, TXT, (G)I-DLE, and many more are already incredibly popular in the K-pop industry. These K-pop groups are relatively new but are already making rounds around the world. With so many of them already gaining notoriety, it surely would be difficult to keep track of all of them.
But as of writing this article, an up-and-coming K-pop girl group has just joined the fray.
Recently, another promising K-pop girl group under RBW Entertainment recently made its debut. PURPLE K!SS, a rookie K-pop girl group consisting of seven members, made their debut only yesterday, on the 15th of March.
The seven members of PURPLE K!SS are Park Jieun (vocalist), Na Goeun (vocalist and dancer), Dosie (dancer, vocalist, and rapper), Ireh (dancer and vocalist), Yuki (rapper, dancer, and vocalist), Chaein (vocalist, rapper, and dancer) and Swan (main vocalist, and maknae). Presently, it seems as though that the group has no leader. In a poll, it seems like Yuki has the most fans as of now.
PURPLE K!SS debuted with their EP "Into Violet," and their debut song, "Ponzona," was uploaded on their official YouTube page yesterday. The three-minute and forty-one-second clip has garnered 446 thousand views, 88 thousand likes, and 750 dislikes. The initial theme of the music video seems magical. As the MV progresses, the girls can be seen casting spells and doing rituals.
The whole video also seems to be featured in an old ruin. Additionally, a recurring item, a book, is seen in the music video.
Before their debut, PURPLE K!SS released two pre-debut singles on the 26th of November, 2020, titled "My Heart Skip a Beat," and the 3rd of February, 2021, titled "Can We Talk Again."
Currently, PURPLE K!SS has not announced their official fandom name and fan color.
Only time will tell how popular this rookie girl group will be. But due to their unique concept, it seems as though that they will garner fame sooner than later. With that being said, PURPLE K!SS seems like a very promising girl group that has huge potential.
© 2023 Korea Portal, All rights reserved. Do not reproduce without permission.