5 Most Popular Leading Men In South Korea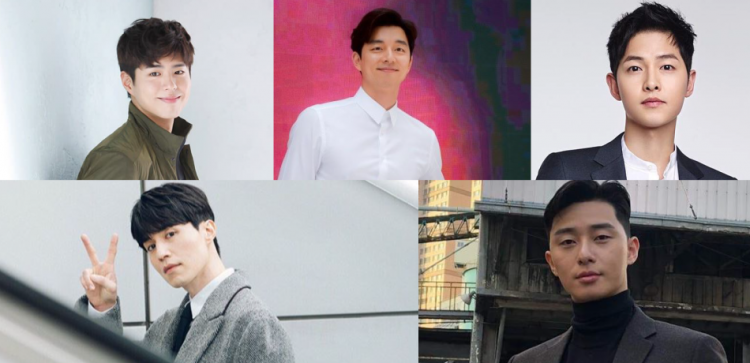 There are tons of South Korean actors today that not only impresses everyone of their visuals but most importantly of their acting. Here are some of the most popular leading men today in the world of K-drama.
Park Seo Joon
He caught the hearts of many viewers with his narcissistic yet charming character in What's Wrong With Secretary Kim. The Korean press even dubbed him as the "master of romantic comedy" because of his impressive performance. Park Seo Joon is set to return on the big screen in the action film, The Divine Fury.
Gong Yoo
Although viewers haven't seen him often since the mega-hit Goblin, Gong Yoo remains as one of the most sought-after Korean leading men today. He has done hit movies and K-dramas such as Silenced, Train to Busan, The Age of Shadows, and Guardian: The Lonely and Great God. Nothing comes from Gong Yoo that is not a blockbuster success.
His fans will soon see him not just in one but two movies this year: Seo Bok and Kim Ji Young, Born in '82. Both are expected to be break box-office as well.
Song Joong Ki
Like Gong Yoo, Song Joong Ki has been out of the spotlight lately, but his popularity never fades. At the moment, the Descendants of The Sun actor is working on period drama Asadal Chronicles that is slated to premiere this year.
Song has also been confirmed to star in sci-fi outer space set film, Lightning Ship. The movie is set to hit cinemas in 2020.
Lee Dong Wook
Gong Yoo's close pal and Goblin co-star is currently melting the hearts of many fans in his ongoing romantic comedy K-drama Touch Your Heart. Lee Dong Wook has proven his versatility in playing a diverse range of characters that he portrayed. He is not only one of the most popular leading men today but also one of the most handsome actors in Korea.
Park Bo Gum
There is no hiatus to the popularity of this multi-talented actor. If he is not in a K-drama, he is singing, meeting his fans, hosting TV shows or appearing in variety shows. Park Bo Gum recently returned in K-drama with melodrama Encounter alongside Song Hye Kyo.
Bo Gum has played diverse roles such as a genius Go player in Reply 1988, a psychotic man in Hello Monster, and Crown Prince in the Joseon era in Love in the Moonlight. This is the reason why movie and K-drama directors would like him to be part of their projects.
There have been reports that Park has been offered to play the lead role in Gong Yoo's upcoming movie, Seo Bok. Park received a proposal in 2017 to play the role of a human clone but respectfully turned it down. Director Lee Yong Ju has reportedly revised the script multiple times in the hopes to change Park's mind.
© 2023 Korea Portal, All rights reserved. Do not reproduce without permission.