BTS V Celebrates Birthday Early With 'Hwarang' Friends Park Seo Joon & Park Hyung Sik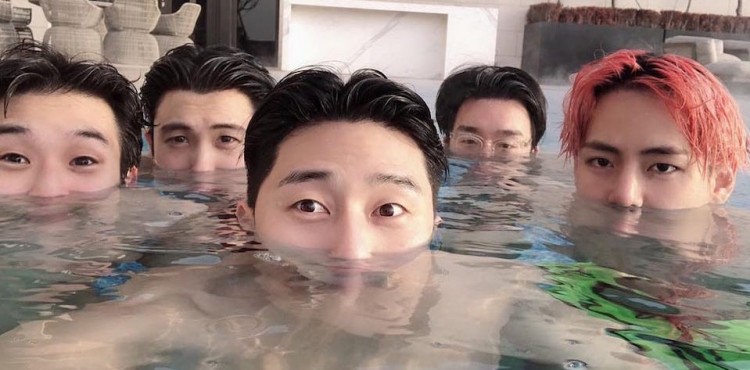 BTS member V celebrates his 23th birthday early with two of his Hwarang friends Park Seo Joon and Park Hyung Sik in a pool party. The event is also a late birthday celebration for Park Seo Joon.
The What's Wrong With Secretary Kim actor shared on his Instagram account a couple of photos from the pool party. In the first snap, Park Seo Joon is with V, Park Hyung Sik, Choi Woo Shik, and singer Peakboy. In his caption, he said the small get together is to celebrate his birthday last December 16 and V's upcoming special day on December 30.
"In order to celebrate a birthday that was a few days ago and another birthday that is in a few days, we spent a short but impactful day together as our schedules somehow lined up although we are busy, and we once again resolved to live our lives to the fullest," the actor said.
Park Seo Joon also thanked his family, friends, and fans who sent their greetings on his birthday last weekend. Last year, Kim Taehyung (also known by his stage name V) also met with Seo Joon and Hyung Sik to celebrate his birthday. The two also showed support to the maknae of Hwarang when they attended a couple of BTS concerts.
Taehyung formed a close bond with Park Seo Joon and Park Hyung Sik after they worked together in the KBS2's historical drama Hwarang: The Poet Warrior Youth. The Hwarang brotherhood also includes SHINee member Minho, Do Ji Han, and Jo Yoon Woo.
Meanwhile, some of Taehyung's fans opted to support endangered tigers for the idol's birthday instead of giving him material gifts. Reports indicate that BTS fans have been joining a project of making donations to the World Wide Fund for Nature in order to aid tigers.
Apparently, the fandom chose to support tigers as it is V's spirit animal. The BTS member once said the tiger is his favorite animal because of its strong character. He also often uses tiger emojis on his social media.
Some also shared the certificate they had received from the WWF after making donations. The organization also released an official certificate to thank V and his fans for making a meaningful gesture on their favorite idol's birthday.
"WWF would like to thank Kim Taehyung (V's real name). You're helping WWF to protect the future of wild tigers and to tackle some of the biggest environmental challenges facing our natural world today. Thank you," the organization stated (via KPop Herald).
BTS skipped the first Korea Popular Music Awards on Thursday where they won the Album of the Year award, but they still keep their fans updated on what they have been up to lately. Aside from V hanging out with his Hwarang hyungs, Jungkook also shared on Twitter his cover of IU's ballad track "Ending Scene."
© 2022 Korea Portal, All rights reserved. Do not reproduce without permission.