'Touch Your Heart' Episode 5 Spoilers: Jin Shim & Jung Rok Clash Again; New Case Will Put The Lawyer's Life In Danger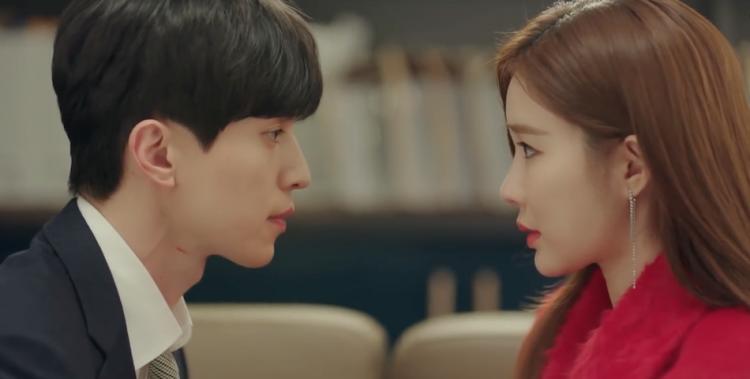 Actress Oh Jin Shim and lawyer Kwon Jung Rok had developed a harmonious working relationship but things will turn sour again between the two in the upcoming Touch Your Heart Episode 5. It will be all because of Jin Shim's love for pink.
Jin Shim (Yoo In Na) will make some changes in the office and put pink accessories here and there. This will spark an argument between the two as Jung Rok (Lee Dong Wook) hates the new look of his office. Jung Rok tells his new secretary calmly that her favorite hue is not appropriate for his office.
It looks like Jin Shim will take it the wrong way and slams her boss for being rude. Jin Shim might claim that Jung Rok allowed her to wear pink in the office but the latter will counter argue that he only told her that she can wear pink clothes but not to put pink accessories in his office. It seems like things will turn worse when Jung Rok tells everyone at the office that his secretary is being negligent lately.
The two will have a confrontation but it looks like they will sort things out in the end. In a teaser for the upcoming Touch Your Heart Episode 5, Jung Rok and Jin Shim are seen working together in a case. They will visit a prisoner but the case will put their lives in danger.
The two are seen checking out a house when someone hit Jung Rok in the head and knock him out. Jin Shim is seen shouting for help. The two could be checking out the house of the inmate that they visited in prison or possibly a crime scene in which the inmate got involved in.
Meanwhile, Jin Shim will continue to feel jealous of Jung Rok's close friend, Yoo Yeo Reum (Son Sung Yoon). Episode 5 teaser also shows Jung Rok telling Jin Shim that he knows the actress hasn't been in a romantic relationship her entire life.
It looks like Jung Rok will look deeper on his secretary background after finding out in the previous episode that she lost her career after being involved in a drug scandal with a chaebol. Apparently, the heir of a huge conglomerate stalked Jin Shim but when she regretted him, he took revenge on the actress by framing her of using illegal drugs.
Touch Your Heart viewers will finally meet the chaebol that ruined Jin Shim's career in the next episode. Towards the end of the previous episode, he was seen still stalking Jin Shim by hacking on her cellphone and monitoring her private conversations. Touch Your Heart Episode 5 will air on February 20 at 9:30 p.m. KST on tvN.
© 2019 Korea Portal, All rights reserved. Do not reproduce without permission.