Park Bo Gum Shows Off Close Friendship With BTS's V In New Photos & Quoted The K-pop Group's Song In Caption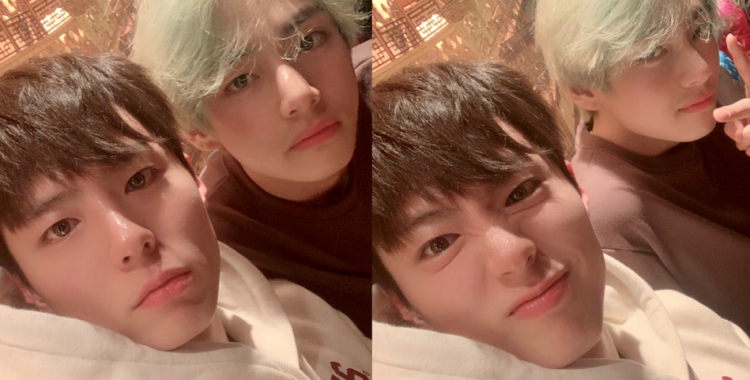 Korean actor Park Bo Gum has been true to his words that he will give his close friend, BTS member V, a call to hang out again. Park has shared two new photos of them together and fans are pleased to see the two enjoying their time together amidst their busy schedule.
The Encounter actor posted his selfies with Kim Taehyung, also known as V, on Twitter Monday. He also captioned it with the lyrics from BTS's song "2! 3!"
"Hope we have many more good days," he wrote along with a purple heart emoji. The purple heart has been a symbol for BTS and their ARMY's love for each other.
It seems like the photos were taken from a restaurant and it could be in Seoul. The BTS members returned to South Korea after they concluded the Japan leg of their Love Yourself world tour over the weekend. Bo Gum, on the other hand, is also back in Korea after his post-Valentine's Day concert in Thailand on Saturday.
The two are among the most popular celebrity friendships in Korea's entertainment industry. Park Bo Gum and V first met when they both hosted Music Bank in 2015. Since then, they became close pals and often show support for each other's projects or go on trips together.
In a previous interview with Park Bo Gum, he was asked about V. The Love In The Moonlight actor revealed that he is set to start with his graduate school soon and he intends to take a major that involves music. He explained that he wants to study composing music. Then he was asked if there is a possibility of collaboration with V.
The Hallyu actor revealed that he recently hang out with the K-pop idol. He also expressed his concern to his friend's health because of BTS's busy schedule.
"I should give him a call. We recently met up to grab food, and we told each other to have strength. He's currently busy with his tour. I wonder how busy he must be and how difficult it must be for him," Bo Gum said.
A collab between the two Hallyu heartthrobs is not far from reality since both of them are great singers. Taehyung is also known as a great songwriter and composer. His most recent self-composed song, "Scenery," sets a new record on Soundcloud as the fastest track to reach 100 million streams.
Meanwhile, Bo Gum will resume his 2019 Park Bo Gum Asia Tour in Singapore on March 9. He will also visit his fans in Hong Kong on March 16, Indonesia on March 23, and Malaysia on March 30. The actor will also be meeting his fans in Taiwan on April 6.
As for BTS, the seven members of the K-pop sensation will have a one month break on their world tour, presumably to focus on creating their highly-anticipated comeback album. Group leader RM has confirmed during the 2019 Grammy Awards that they are currently working on a new album that they plan to release very soon.
좋은 날이 훨씬 더 많기를 pic.twitter.com/elZCMxFtpn — 박보검 (@BOGUMMY) February 18, 2019
© 2023 Korea Portal, All rights reserved. Do not reproduce without permission.