'Running Man' Kicks Off With Song Ji Hyo And Kim Jong Kook New Monday Couple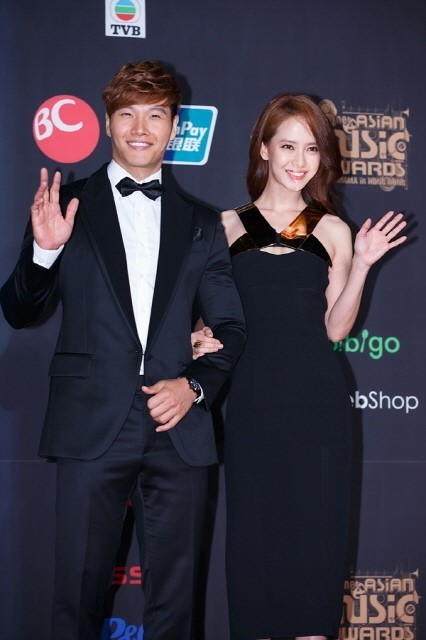 "Running Man" kicks off 2017 with a bang as cast members Song Ji Hyo and Kim Jong Kook are predicted to get married while producers publicly punish themselves.
The latest episode of the widely popular variety show started the year with a fortuneteller visiting the six remaining cast members and casting a series of predictions that involved romance and career fortune.
The psychic predicted that the 35-year-old "Emergency Couple" actress and 40-year-old singer were most compatible with the members with an 85-90 over 100 chances of getting married.
The pairing of Kim Jong Kook, who earned several monikers from the show including the name Sparta Kook, and Song Ji Hyo, dubbed by viewers as the Ace, is fondly called as Spartace.
Song Ji Hyo used to form the Monday couple with Gary until he left the show in October.
The singer's love life continues to garner interest especially when actor Cha Tae Hyun talked about Kim Jong Kook's "secret" girlfriend.
Song Ji Hyo and Kim Jong Kook have also been involved in the "Running Man" controversy last month over a casting conflict.
The "Running Man" producers offered a series of apologies including their latest public apology wherein they voluntarily joined Song Ji Hyo to get soaked in a water cannon.
"We are sorry, we will work harder from now on," the producers said on camera.
The captions onscreen also wrote, "Running Man members, we are sorry we couldn't protect you. We will do better from now on..."
They also handed the members a basket of apples and flowers in an earlier episode with an apology note.
The fortuneteller predicted the youngest "Running Man" member Lee Kwang Soo to be the luckiest this year followed by Yoo Jae Suk and Kim Jong Kook.
Lee Kwang Soo took home the only award won by "Running Man" at the 2016 SBS Entertainment Awards where he made his co-stars tear up in a touching acceptance speech.
Yoo Jae Suk also won his 13th Daesang award at the 2016 MBC Entertainment Awards.
Kim Jong Kook plans to launch a Turbo comeback.
Ji Suk Jin was predicted to be the unluckiest, then Haha and Song Ji Hyo.
Song Ji Hyo will host a beauty program this month.
© 2023 Korea Portal, All rights reserved. Do not reproduce without permission.
Tags:
Running Man
,
Song Ji Hyo Kim Jong Kook Running Man
,
running man latest news
,
Running Man Song Ji Hyo
,
Running Man Kim Jong Kook
,
running man latest update
,
Running Man controversy
,
running man news
,
Running Man producers apologize
,
Running Man Comes to an END
,
Running Man producers
,
Running Man Lee Kwang Soo
,
Running Man episode
,
monday couple
,
Song Ji Hyo
,
Kim Jong Kook
,
Yoo Jae Suk
,
Running Man Yoo Jae Suk
,
Haha
,
Running Man Haha
,
Ji Suk Jin
,
Running Man Ji Suk Jin
,
Gary
,
kang gary
,
Cha Tae Hyun
,
Cha Tae Hyun and Kim Jong Kook
,
Lee Kwang Soo
,
Kim Jong Kook lovelife
,
Kim Jong Kook girlfriend
,
Kim Jong Kook update