Cha Tae Hyun Exposes Kim Jong Kook's 'Secret' Girlfriend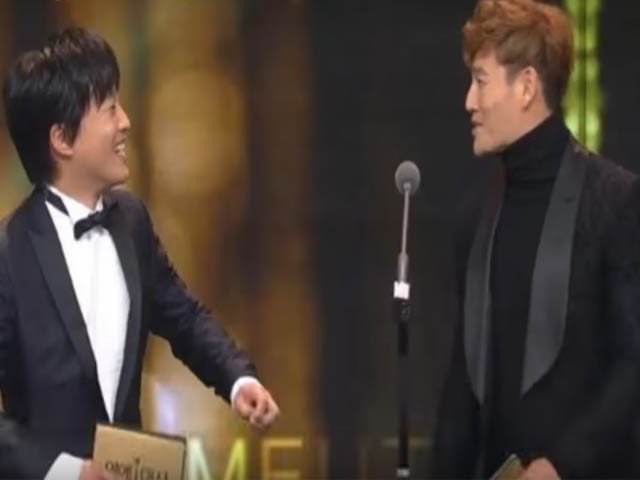 Singer Kim Jong Kook was placed on the spot after comedian Cha Tae Hyun blurted out about the singer's "secret" girlfriend while presenting at the"2016 KBS Entertainment Awards."
The real life celebrity best friends managed to stir the audience even in their brief appearance as presenters for the Best Show/Talk MC during Monday night's award show.
The 40-year-old "2 Days & 1 Night" cast member and "My Sassy Girl" star started by talking about the singer's marriage plans.
"Now another year is over," said Cha Tae Hyun and then turned to ask his friend, "Shouldn't you get married? Are you not going to marry?"
"I will! I will," answered the "Running Man" cast member.
Cha Tae Hyun quickly followed up with, "How long are you going to keep lying to people?"
"What am I lying about?" clarified the 40-year-old singer.
"You seem like you have a girlfriend," said Cha Tae Hyun.
This unsettled Kim Jong Kook who quickly took hold of Cha Tae Hyun's shoulders and cried out, "Are you crazy?"
The best friends also appeared June 10 on KBS' "Hurry Up Show" where Cha Tae Hyun revealed that his wife disapproved of Kim Jong Kook because she doesn't think he's marriage material.
The trio "Dragon Brothers" composed of the two men plus "Windstruck" actor Jang Hyuk have been a long time best friends. Cha Tae Hyun married 10 years ago followed by Jang Hyuk who married in 2008.
Comedian Kim Ji Min also attempted to spill the beans on Kim Jong Kook's love life when she appeared as one of the guests for KBS 2TV's "Welcome Show" in September.
The renowned 32-year-old entertainer accused Kim Jong Kook of being secretive when it comes to his dating life and didn't buy the singer's claims that he barely has any female contacts on his phone.
"The reason why it doesn't make sense that he only has 10 is because he never puts down his phone," Soompi quoted Kim Min Ji as saying. "He has quite a lot of secrets."
She added that he even keeps it from his close friends Cha Tae Hyun and singer Hong Kyung Min.
"They don't know any of the girls he dated in the past. They know that Kim Jong Kook dated, but they don't know who he dated," she said.
© 2023 Korea Portal, All rights reserved. Do not reproduce without permission.