Lee Kwang Soo's Emotional Speech Makes 'Running Man' Members Tear Up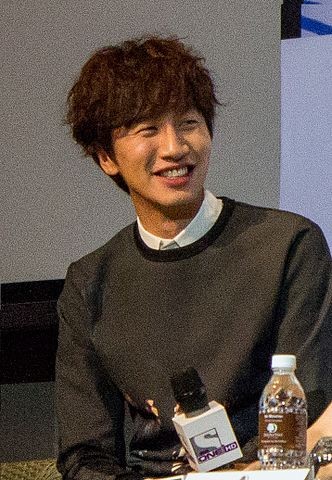 Actor and entertainer Lee Kwang Soo's acceptance speech for the "2016 SBS Entertainment Awards made the "Running Man" cast members tear up.
All the six remaining members of the popular variety show attended the "2016 SBS SAF Awards" Sunday night in the Sangam SBS Prism Tower. It was the youngest member Lee Kwang Soo who received the best Christmas gift when he took home the Top Excellence Award for Variety Show.
The 31-year-old comedian and model made his fellow cast members tear up as he himself turned emotional when he delivered his acceptance speech.
His first thanks were for God first before he mumbled a few more thanks and even apologized as he took a few seconds to compose himself. He thanked all the "Running Man" members, writers, staff members and the show producers Hwan Jin, Chul Min and Yong Woo for their hard work.
He then turned to his fellow "Running Man" cast members - present and former - and said:
"Suk Jin hyung who taught me variety and life. Jae Suk hyung who helped me become who I am. Jong Kook hyung who is my mental guidance. Haha hyung who is like a family my JiHyo nuna. Gary hyung, Joong Ki and Lizzy. I love u very much and I was very happy since I was 26 til I became 33. I was very happy for 7 years."
He also won the Annoying Guy Award while Yoo Jae Suk was nominated for Grand Award (Daesang) and Haha for Top Excellence Award for Variety Show which went to the youngest "Running Man" member.
Lee Kwang Soo also attended the "15th KBS Entertainment Awards" Christmas Eve in Seoul and won Best Couple with Jung So Min.
It's been an eventful year for the pan-Asia popular entertainer who also appears in KBS2's "Sound of Your Heart" and "Hwarang: The Poet Warrior Youth" and tvN's "Entourage."
CEO Lee Jin-sung of KINGKONG Entertainment acknowledged it was "Running Man" that "made" Lee Kwang Soo.
"We're sad to see this happen because 'Running Man' was so well loved," he told KoreaHerald. "But for (Lee's) acting career, we've been thinking about when would be a good time to leave the show."
"Although it's true that Lee gets a lot of offers for comical roles, he's recently been getting some offers for other characters based on the acting abilities he has demonstrated over the years."
© 2023 Korea Portal, All rights reserved. Do not reproduce without permission.