ONCEs Melt As TWICE's Sana & Chaeyoung Give Off Major Couple Vibes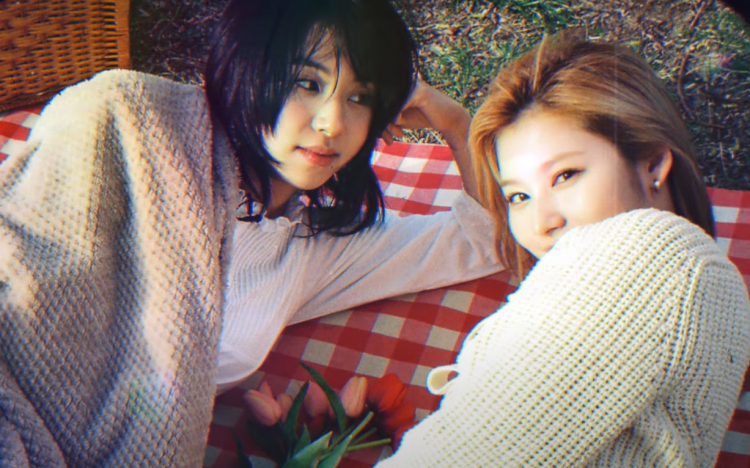 What did TWICE's Sana and Chaeyoung do on their day off together? Find out what the two K-pop idols did together that has gotten fans all worked here!
READ: NMIXX Kyujin's Names Chaeyoung As Her Favorite TWICE Member Due To A Plethora Of Sweet Reasons
TWICE's Sana and Chaeyoung have a lot in common and due to this, it is always a hoot whenever the two are paired together. Just recently, the two K-pop idols spent a whole day together, talking about a plethora of things including how they feel towards one another.
In their one-on-one time, TWICE's Sana and Chaeyoung talked about their first impressions of one another and also reminisced about their past. Both K-pop idols initially shared some of their favorite things about one another other.
Kicking things off, TWICE's Sana revealed that Chaeyoung was able to find her own identity and due to this, the K-pop idol was able to mature on her own.
READ: BTS Jimin, Girls' Generation's Taeyeon, TWICE's Jihyo, & More, The Most Outstanding Vocalists in K-pop!
"When people ask what you think about something, you explain it really well, and I think that comes from maturity," TWICE's Sana shared.
Expectedly, TWICE's Sana also smothered Chaeyoung with compliments, noting that she loves looking at Chaeyoung's face. Sana even admitted that she saves some of Chaeyoung''s selfies, bringing a red shade to the "Switch to me" singer.
Following Sana's initial sentiments, TWICE's Chaeyoung also showed love toward her unnie, praising Sana's complexity, something Chaeyoung admittedly noted most people do not see as Sana is known for her positive personality.
"You try really hard to be the way you are. You try hard to stick to who you think you should be. You plan things out and you try hard to achieve your aspiration," TWICE's Chaeyoung sweetly remarked.
READ: Future With TWICE, Love For Members, & More: TWICE's Sana Spills The Tea With Cosmopolitan!
Complementing one another seemed natural, given that TWICE Sana and Chaeyoung's backdrop was a clean park, sitting parallel to one another and enjoying their picnic.
© 2023 Korea Portal, All rights reserved. Do not reproduce without permission.
Tags:
kwave
,
kwave news
,
kwave updates
,
Kpop
,
kpop news
,
Kpop updates
,
JYP
,
JYP artists
,
JYP Entertainment
,
JYP Entertainment artists
,
JYP Entertainment news
,
JYP Entertainment TWICE
,
JYP Entertainment TWICE Sana
,
JYP Entertainment TWICE Chaeyoung
,
JYP Entertainment Sana
,
JYP Entertainment Chaeyoung
,
TWICE
,
TWICE news
,
TWICE Updates
,
TWICE Sana
,
TWICE Sana news
,
TWICE Sana updates
,
TWICE Chaeyoung
,
TWICE Chaeyoung news
,
TWICE Chaeyoung updates
,
Sana
,
Sana news
,
Sana updates
,
Chaeyoung
,
Chaeyoung news
,
chaeyoung updates