Future With TWICE, Love For Members, & More: TWICE's Sana Spills The Tea With Cosmopolitan!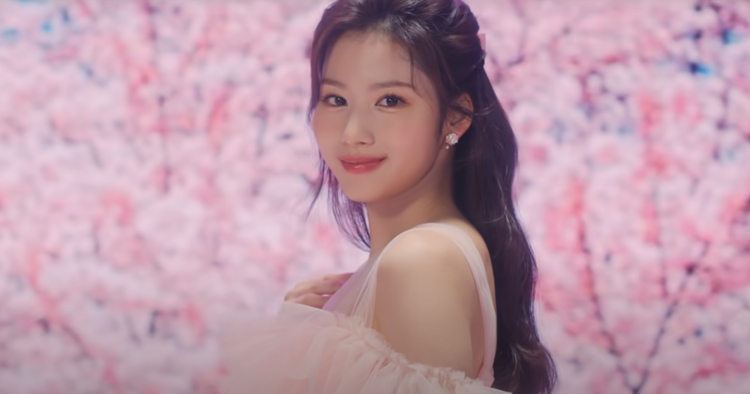 Just recently, TWICE's Sana was featured in a photoshoot with Cosmopolitan Korea, and aside from slaying her photos, she melted the hearts of ONCEs as she answered some questions in the subsequent interview.
2021 was a busy year for TWICE, which was highlighted by their third studio album, "Formula of Love: O+T=<3." On TWICE's success with their album, Sana shared that although they were not able to meet their fans in person, she believes 2021 was the year where they did their best to show everything they could.
READ: TWICE Sets Amazing Milestone On MAMA For Winning The Most 'Best Female Group' Awards!
Regarding which song she loved in "Formula of Love: O+T=<3," Sana chose "Push & Pull" as typically, when one thinks of TWICE songs, it is easy to think of bright songs or tracks that would be perfect for singing at concerts. But the song she chose was a bit deep since it is an uncommon song for TWICE, which is why she likes it.
Notably, TWICE is slated to start their fourth world tour with concerts in Seoul this December, and TWICE's Sana revealed her excitement as she can not wait to see ONCEs, the fandom name of TWICE, in person.
TWICE's Sana was then asked how long she wanted to promote as a member of TWICE, and she honestly answered, "If it were up to me, I want to continue for 10, 20 years. Even if we don't promote consistently throughout the year later on, I want to get together for concerts like S.E.S. and last forever as a team like that."
Furthermore, Sana is the only TWICE member not to have siblings. Thus, Sana revealed how important the other members of TWICE are to her by explaining that once one becomes her person, she wants to be with that person forever.
"My members are my close friends, family members, and business partners, but that combined relationship is hard to put into words. For starters, you don't really tell your family about business matters," TWICE's Sana adorably shared.
TWICE's Sana went on to add that the other TWICE members understand and relate to everything she does aside from giving opinions. Due to this, she thinks it is inevitable that she and the other TWICE members become irreplaceable to one another.
© 2022 Korea Portal, All rights reserved. Do not reproduce without permission.
Tags:
Cosmopolitan
,
Cosmopolitan TWICE Sana
,
TWICE Sana
,
Sana Cosmopolitan
,
Cosmopolitan Sana
,
Cosmopolitan news
,
Cosmopolitan updates
,
Cosmopolitan Korea
,
Cosmopolitan Korea news
,
Cosmopolitan Korea updates
,
TWICE Sana Cosmopolitan Korea
,
Cosmopolitan Korea TWICE Sana
,
Sana Cosmopolitan Korea
,
Cosmopolitan Korea Sana
,
JYP
,
JYP artists
,
JYP Entertainment
,
JYP Entertainment artists
,
JYP Entertainment Sana
,
JYP Entertainment TWICE
,
JYP Entertainment TWICE Sana
,
TWICE
,
TWICE news
,
TWICE Updates
,
TWICE members
,
TWICE Sana news
,
TWICE Sana updates
,
Sana
,
Sana news
,
Sana updates