RM Takes The High Road With BTS's GRAMMYs Snub, Classily Responding To Haters!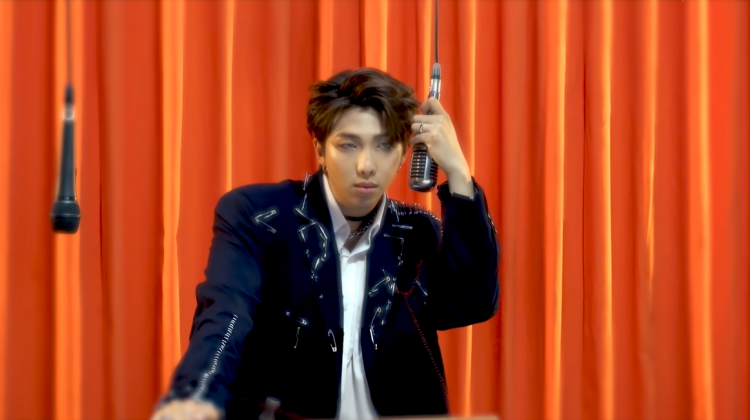 Both BTS's Suga and RM recently talked about their GRAMMYs snub during the K-pop boy group's "PERMISSION TO DANCE ON STAGE" concert in Las Vegas. RM specifically addressed the haters, but the K-pop idol did it in the classiest way possible.
READ: BTS's V Reveals What He Said To Olivia Rodrigo During Their Viral 2022 GRAMMYs Moment Together!
When BTS's RM began his speech, the K-pop idol did not shy hesitate to talk about the 2022 GRAMMYs. Confidently, RM brushed off the snub and instead focused on being positive about the matter.
BTS's RM noted, "Guys, I know there's a lot of noises out there about the GRAMMYs and the team itself. But, you know. Why give a sh*t about it?"
The BTS leader reassured saddened ARMYs (the fandom name of BTS) that those who decide the winners during the GRAMMYs were free to choose whomever they want. The K-pop idol also talked about how he was not affected by haters.
READ: BTS Jimin, Girls' Generation's Taeyeon, TWICE's Jihyo, & More, The Most Outstanding Vocalists in K-pop!
As per BTS's RM, hate is their freedom and haters have the right to hate. But if it was for the K-pop idol, he would rather just talk with his friends in some cafe and forget about the whole matter.
Furthermore, RM then recapped the whole topic by saying that instead of Tweeting about it or talking about BTS's GRAMMYs snub in an interview, the K-pop idol would rather let it all go because he is a grown up.
READ: ARMYs Melt After Seeing The Untelevised Sweetest Moment BTS Had With One Another At The GRAMMYs!
Sweetly, BTS's RM expressed that he and the other BTS members were in Las Vegas for their precious K-pop fans, the ARMYs, and not to dwell about the GRAMMYs.
BTS RM's final message is as follows:
"The record, the title, the accomplishments, the trophies. They're really important, but that wasn't the first thing, the first reason, why we started it all. All these things, right? These two hours: communion, energy, eye to eye, singing along, dancing together, this communication. This is everything. This is why we're doing this, right? I hope you know it. I love you, and let the haters hate. And let the lovers love. I love you so much."
Fans can check out BTS RM's speech here:
"let the haters hate. let the lovers love"- kim namjoon pic.twitter.com/lJzQWzw7EO — ⁷ already misses bts (@joontro94) April 9, 2022
© 2022 Korea Portal, All rights reserved. Do not reproduce without permission.
Tags:
kwave
,
kwave news
,
kwave updates
,
Kpop
,
kpop news
,
Kpop updates
,
PERMISSION TO DANCE ON STAGE
,
Permission To Dance On Stage news
,
Permission To Dance On Stage updates
,
BTS Permission To Dance On Stage
,
Permission To Dance On Stage BTS
,
HYBE
,
HYBE artists
,
HYBE BTS
,
HYBE Labels
,
HYBE Labels artists
,
HYBE Labels BTS
,
BTS
,
bts news
,
BTS Updates
,
BTS RM
,
BTS RM news
,
BTS RM updates
,
RM
,
RM news
,
RM updates
,
Grammys
,
Grammys news
,
Grammys updates
,
2022 Grammys
,
BTS grammys
,
Grammys BTS