(G)I-DLE's 'TOMBOY' tops Melon's Weekly Chart Beating Jay Park, Red Velvet, And Taeyeon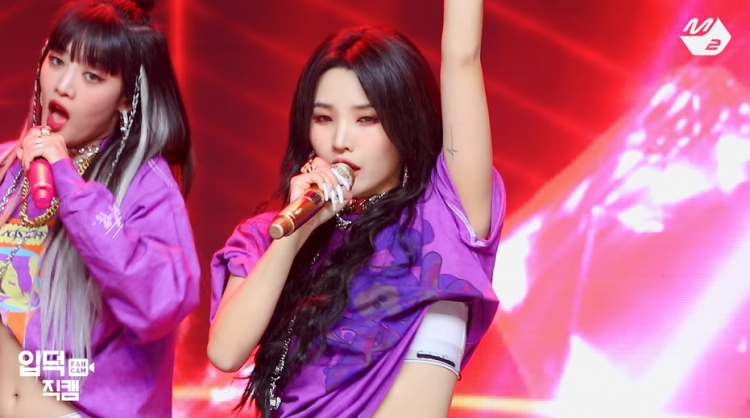 The group (G)I-DLE climbed to the top of the Melon weekly chart for the first time with the title song "TOMBOY" two weeks after the release of their first studio album "I NEVER DIE."
On the 30th, "TOMBOY" entered the Melon weekly chart at No. 1.
READ: Netizens Praise (G)I-DLE For Amazing Live Vocal Skills, Though One Member Garners Criticism!
"TOMBOY" is the title song of "I Never Die," the first studio album released by (G)I-DLE since its debut. The direct lyrics, unique voice, and rough and majestic instrumental sound are the main attractive points of "TOMBOY."
The music video for this song surpassed 73 million views on the 29th, drawing attention from fans around the world.
Meanwhile, Red Velvet's "Feel My Rhythm" showed off its presence by entering No. 3 on the weekly chart.
READ: (G)I-DLE's 'Tomboy' Syndrome Is Taking K-Pop By Storm
"Feel My Rhythm," the title song of Red Velvet's newest mini-album "The ReVe Festival 2022 - Feel My Rhythm," is a pop-dance track that harmonizes with the elegant melody of Bach's "Aria on the G String," intense trap beats, and the charm of fantastic vocals from the members. As a song, it is gaining great popularity with Red Velvet's unique liveliness.
On the other hand, Jay Park's "GANADARA (Feat. IU)," which topped the charts last week, took 2nd place, while Taeyeon's "INVU" fell two places to No. 4.
READ: (G)I-DLE's Minnie, Yuqi, & Soyeon Express Love For Fellow Members, Compare Album To 'One Piece', & More!
The OST of the tvN drama 'Twenty-Five Twenty One', starring Kim Tae Ri and Nam Joo Hyuk, is also on the rise thanks to the drama's hot popularity.
Weinstein's "Only Existence" climbed 10 places to 17th, while "Starlight" sung by NCT ​​Taeil jumped 42 places to 36th. "With," which entered the top 100 last week, climbed 46 places to 43rd, and "Very, Slowly" sung by BIBI also jumped 13 places to 57th.
In addition, Jaurim's "Twenty-Five, Twenty-One" entered Melon's weekly chart at 100th thanks to the drama title of the same name. This song was released in October 2013 and has been steadily gaining popularity.
READ: Stray Kids' Changbin Delightfully Trends On Twitter For An Adorable Reason!
Stay tuned for more updates!
© 2023 Korea Portal, All rights reserved. Do not reproduce without permission.