(G)I-DLE's Minnie, Yuqi, & Soyeon Express Love For Fellow Members, Compare Album To 'One Piece', & More!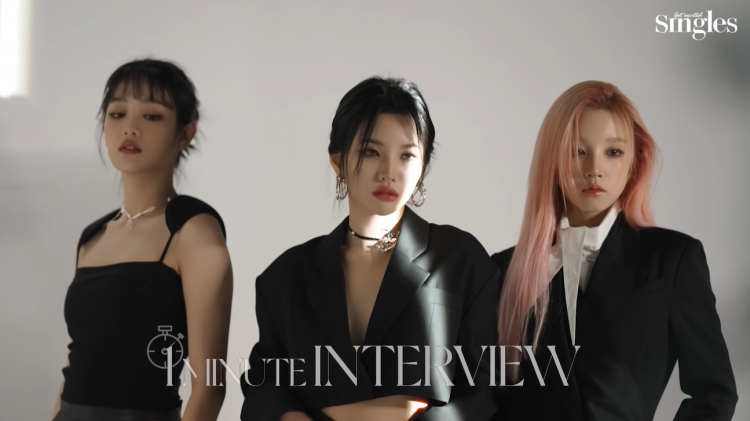 (G)I-DLE just made a comeback, and following this, K-pop superstars Jeon Soyeon, Yuqi, and Minnie were recently featured in a photoshoot and interview for the April issue of Singles magazine!
READ: BTS, IU, (G)I-DLE, & More, March's Most Popular Singer In Terms Of Brand Reputation Rankings!
The K-pop girl group made their comeback earlier this March with their first full-length studio album entitled "I NEVER DIE." It was noted that Jeon Soyeon, Yuqi, and Minnie all had a role in the production process, showing the K-pop idols' versatility.
(G)I-DLE's Minnie and Yuqi shared that before preparing for their album, the K-pop girl group discussed with each other what direction they want to take and what image they wanted to show. Notably, both 'growth' and 'statement' were the keywords that repeatedly came up.
Furthermore, Jeon Soyeon, the leader of the K-pop girl group, compared (G)I-DLE's album to the popular manga "One Piece."
(G)I-DLE's Jeon Soyeon noted that "The Paramount War' is a really important part of "One Piece." Soyeon expressed that they fight a war that they once thought they could never win, and two years later the story of how (G)I-DLE have grown is told. Just like the manga, the K-pop group thought of their album as one that was made after their version of the paramount war.
"'Crazy novel.' These are lyrics in the track 'VILLAIN DIES.' It's always the hero's job to overcome adversity and find a happy ending. However, I thought, 'Isn't the way we face the world to prove our worth more like what a villain would do?' and I imagined an ending where the villain wins," (G)I-DLE's Jeon Soyeon answered when asked about what lyrics their K-pop fans should look forward to.
Furthermore, as per (G)I-DLE's Jeon Soyeon, Yuqi, and Minnie, they realized how much they love their fellow members. Yuqi specifically mentioned that she feels more assured in herself as an artist when she is together with her fellow K-pop members as a whole.
(G)I-DLE's Jeon Soyeon then shared that she is able to gain confidence through being a part of her K-pop girl group!
READ: They Will 'Never Die': (G)I-DLE Becomes First K-Pop Group To Reach Perfect All-Kill Milestone With 'TOMBOY'!
The full photoshoot and interview featuring (G)I-DLE's Jeon Soyeon, Yuqi, and Minnie can be seen in Singles magazine's April issue!
© 2023 Korea Portal, All rights reserved. Do not reproduce without permission.
Tags:
kwave
,
kwave news
,
kwave updates
,
Kpop
,
kpop news
,
Kpop updates
,
CUBE
,
CUBE artists
,
Cube Entertainment
,
Cube Entertainment artists
,
Cube Entertainment news
,
Cube Entertainment updates
,
Cube Entertainment Yuqi
,
Cube Entertainment Minnie
,
Cube Entertainment Soyeon
,
Cube Entertainment Jeon Soyeon
,
Cube Entertainment (G)I-DLE
,
Cube Entertainment (G)I-DLE Yuqi
,
Cube Entertainment (G)I-DLE Minnie
,
Cube Entertainment (G)I-DLE Soyeon
,
Cube Entertainment (G)I-DLE Jeon Soyeon
,
(G)I-DLE
,
(G)I-DLE news
,
(G)I-DLE updates
,
(G)I-DLE members
,
(G)i-DLE YUQI
,
(G)I-DLE Minnie
,
(G)I-DLE Soyeon
,
(G)I-DLE Jeon Soyeon
,
(G)I-DLE Jeon Soyeon news
,
(G)I-DLE Jeon Soyeon updates
,
(G)I-DLE Soyeon
,
(G)I-DLE Soyeon news
,
(G)I-DLE Soyeon updates
,
(G)i-DLE YUQI news
,
(G)i-DLE YUQI updates
,
(G)I-DLE Minnie news
,
(G)I-DLE Minnie updates
,
Jeon Soyeon
,
Jeon Soyeon news
,
Jeon Soyeon updates
,
Soyeon
,
Soyeon news
,
Soyeon updates
,
Yuqi
,
Yuqi news
,
Yuqi updates
,
Minnie
,
Minnie news
,
Minnie updates