JYP Entertainment Sisters: TWICE's Nayeon & Tzuyu Reveal That They Have Never Fought!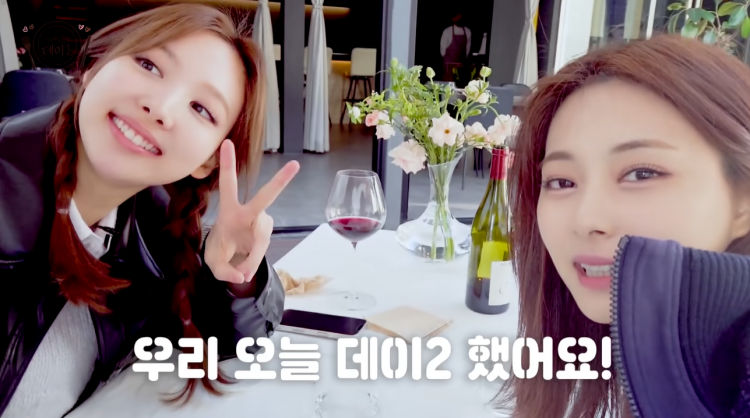 TWICE's Nayeon and Tzuyu recently revealed that the two have never fought after being together for 7 years in the K-pop industry.
READ: JYP Nation Growing Strong: JYP Entertainment Planning On Debuting 4 More K-Pop Groups By 2023!
On the 22nd of March, a video was uploaded on TWICE's official YouTube and showed Nayeon and Tzuyu having a lunch date at an outdoor restaurant. The two K-pop idols with one another at a table that had some cozy shade from the heat of the sun.
TWICE's Nayeon and Tzuyu both had food and wine while remembering the past fondly. Nayeon shared, "During our early debut days, we used to spend much more time with each other, didn't we? We lived together, and got in some arguments."
Adding to this, TWICE's Nayeon remembered that she has never fought with Tzuyu.
READ: Tzuyu Mistreated? ONCEs Call For Better Treatment Towards TWICE Member After '#TWICE4' Releases!
Hearing this, TWICE's Tzuyu agreed and responded, "I feel like if we weren't in the same group, I'm not sure if we would become this close. When I was a trainee, you were already about to make a debut. So, I've never imagined that we would become close at all."
"Maybe it's something that you don't feel, but I feel like I've become closer to you nowadays. These days, we have more serious conversations, and I feel closer to you than our early debut days," TWICE's Nayeon further added.
Looking further back, TWICE's Nayeon then mentioned how she first met Tzuyu.
READ: TWICE Reaffirms Its Position As A Top Girl Group In Japan
As per TWICE's Nayeone, when she saw Tzuyu for the first time, her hair was short. But Nayeon started taking an interest in Tzuyu quickly since the two performed together in "SIXTEEN." As for TWICE's Tzuyu, Nayeon left a great impression on the day of her first monthly evaluation as a trainee. Her unnie was notably very pretty and nice.
© 2023 Korea Portal, All rights reserved. Do not reproduce without permission.
Tags:
kwave
,
kwave news
,
kwave updates
,
Kpop
,
kpop news
,
Kpop updates
,
JYP
,
JYP artists
,
JYP Entertainment
,
JYP Entertainment artists
,
JYP Entertainment news
,
JYP Entertainment updates
,
JYP Entertainment TWICE
,
JYP Entertainment Nayeon
,
JYP Entertainment Tzuyu
,
JYP Entertainment TWICE Nayeon
,
JYP Entertainment TWICE Tzuyu
,
TWICE
,
TWICE news
,
TWICE Updates
,
Twice Tzuyu
,
TWICE Tzuyu news
,
TWICE Tzuyu updates
,
TWICE Tzuyu and TWICE Nayeon
,
TWICE Nayeon and TWICE Tzuyu
,
TWICE Nayeon
,
TWICE Nayeon news
,
TWICE Nayeon updates
,
Tzuyu
,
Tzuyu News
,
Tzuyu updates
,
Tzuyu and Nayeon
,
Nayeon and Tzuyu
,
Nayeon
,
Nayeon news
,
Nayeon updates