YG Idols Reveal Upcoming YG Entertainment Artist Releases Including WINNER, iKON, BLACKPINK Comeback, & More!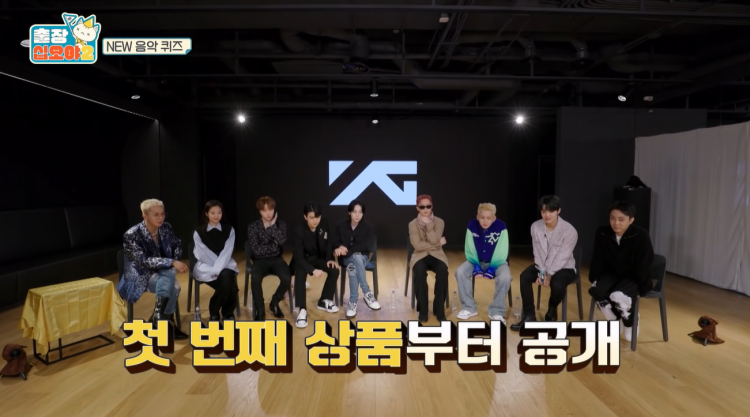 "The Game Caterers" recently featured YG Entertainment artists together in a fun video to the delight of netizens and K-pop fans.
The YG Entertainment K-pop artists were Sechskies' Jiwon, AKMU's Chanhyuk, WINNER's Jinu, Mino, and WINNER's Yoon (for a short time), BLACKPINK's Jennie, iKON's Jay and Song, and both of TREASURE's Hyunsuk and Jihoon.
The first and second videos were filled with amazing moments but fans of the artists were most excited by the final few parts of the last episode as each of the YG Entertainment K-pop artists had a chance to talk, promoting certain things.
Notably, AKMU's Chanhyuk proposed a show idea to the producer of "Game Caterers," announcing in a joking way that he was already working on a travel show with the program's producer.
TREASURE's Hyunsuk then promoted TREASURE's concert, which was their first since their debut. The K-pop idol shared the ticket prices and even told fans where they could buy them.
TREASURE's Jihoon then promoted their comeback, "JIKJIN." The K-pop idol also expressed that he is a host on SBS's "Inkigayo," asking fans to support him.
READ: Yoo Seung Ho Is YG Entertainment's Latest Addition To Their Pantheon Of Actors & Actresses!
After this, the other YG artists then mainly talked about upcoming comebacks. WINNER's Mino began the promotions as the K-pop idol expressed, "WINNER is preparing for a comeback."
WINNER's Jinu then promoted fellow member Yoon, who only appeared for a short time in the episodes, who will soon be dropping an album as a K-pop soloist.
Furthermore, iKON's Jay confirmed that iKON will also be having a comeback in the top half of 2022. iKON's Song then promoted his YouTube channel "SONGCHELIN GUIDE."
Jennie then confirmed BLACKPINK's comeback as she shared, "BLACKPINK is also making a comeback soon." Initially, the K-pop idol wasn't sure if she could share the information but since she was the only member there, she decided to affirm the hopes of fans.
READ: YG Entertainment Responds Quickly After Jeon Somi Accidentally Spoils BLACKPINK's Comeback!
Adorably, Sechskies' Jiwon thanked "Game Caterers" for giving him his first opportunity to spend time with his junior YG Entertainment K-pop artists.
© 2023 Korea Portal, All rights reserved. Do not reproduce without permission.
Tags:
The Game Caterers
,
The Game Caterers news
,
The Game Caterers updates
,
The Game Caterers episode
,
YG The Game Caterers
,
The Game Caterers YG
,
YG artists The Game Caterers
,
The Game Caterers YG artists
,
YG Entertainment artists The Game Caterers
,
The Game Caterers YG Entertainment artists
,
kwave
,
kwave news
,
kwave updates
,
Kpop
,
kpop news
,
Kpop updates
,
YG
,
YG artists
,
YG releases
,
YG Entertainment
,
YG Entertainment artists
,
YG Entertainment news
,
YG Entertainment updates
,
YG Entertainment update
,
YG Entertainment artists schedules
,
YG Entertainment releases
,
YG Entertainment SECHSKIES
,
YG Entertainment AKMU
,
YG Entertainment Winner
,
YG Entertainment BLACKPINK
,
yg entertainment ikon
,
YG Entertainment TREASURE
,
SECHSKIES
,
SECHSKIES news
,
SECHSKIES updates
,
Sechskies Jiwon
,
Sechskies Jiwon news
,
Sechskies Jiwon updates
,
Jiwon
,
Jiwon news
,
Jiwon updates
,
AKMU
,
AKMU News
,
AKMU updates
,
AKMU Chanhyuk
,
AKMU Chanhyuk news
,
AKMU Chanhyuk updates
,
Chanhyuk
,
Chanhyuk news
,
Chanhyuk updates
,
Winner
,
WINNER News
,
WINNER updates
,
WINNER Jinu
,
WINNER Jinu news
,
WINNER Jinu updates
,
WINNER Mino
,
Winner Mino news
,
Winner Mino updates
,
Winner Yoon
,
WINNER Yoon news
,
WINNER Yoon updates
,
Jinu
,
Jinu news
,
Jinu updates
,
Mino
,
Mino news
,
Mino updates
,
Yoon
,
Yoon news
,
Yoon updates
,
BLACKPINK
,
Blackpink news
,
Blackpink updates
,
blackpink jennie
,
BLACKPINK Jennie news
,
BLACKPINK Jennie updates
,
Jennie
,
Jennie news
,
Jennie updates
,
iKon
,
iKON news
,
iKON Updates
,
iKON Jay
,
iKON Jay news
,
iKON Jay updates
,
iKON Song
,
iKON Song news
,
iKON Song updates
,
Jay
,
Jay news
,
Jay updates
,
Song
,
Song news
,
Song updates
,
Treasure
,
TREASURE news
,
TREASURE updates
,
Treasure Hyunsuk
,
Treasure Hyunsuk news
,
Treasure Hyunsuk updates
,
Treasure Jihoon
,
Treasure Jihoon news
,
Treasure Jihoon updates
,
Hyunsuk
,
Hyunsuk news
,
Hyunsuk updates
,
jihoon
,
Jihoon news
,
Jihoon updates