IU Reveals AKMU's Chanhyuk & Suhyun Are Chaotic Siblings & More In Latest 'IU's Palette' Episode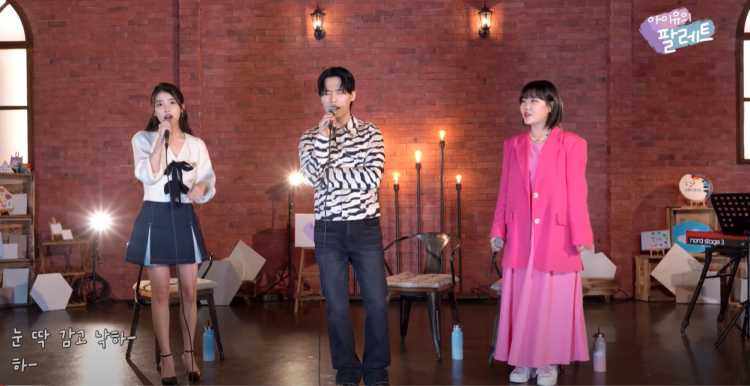 Just recently, YG ENtertainment's sibling duo, AKMU, made their comeback with their latest album "Next Episode." A plethora of artists was featured in the album but among them was the incredibly popular soloist from EDAM Entertainment, IU.
Following this, AKMU was featured on the latest episode of IU's show "IU's Palette." In the show, the trio sang songs, talked about how they made the album, and even had multiple reactions regarding Chanhyuk's tripping over himself.
At Chanhyuk's fall, AKMU's Suhyun was laughing very hard and IU was trying to help Chanhyuk up. Notably, it was revealed that this is not the first time IU became the mediator between the siblings. In the show, it was revealed that the two are completely different in terms of personality.
As per AKMU's Chanhyuk, although his sister is extremely talented and gifted, he noted that there are times where Suhyun is lacking ambition. IU agreed, noting that AKMU's Suhyun seems to have no passion at times, compared to Chanhyuk, when both of the siblings are working.
Regardless of being different, the siblings of AKMU and even IU believe the counterpart between the two siblings is what makes them unique.
"I think that difference keeps AKMU's tension going. Once the balance gets tipped off, there will not be the same tension that everyone likes," IU noted.
Moreover, during the time AKMU and IU were recording or simply just chilling, IU noted down the number of times the siblings argued, which is normal for siblings.
To add to this, IU said, "I would just listen saying, 'Suhyun was correct on that point,' or 'Chanhyuk was right on that point.' That's how it always goes. I never give them satisfying advice."
Although YG Entertainment's AKMU radiate and ooze talent, Chanhyuk and Suhyun still argue as all siblings do. This is good as even though they have acquired fame and popularity, the AKMU siblings still look at each other with familial affection.
© 2023 Korea Portal, All rights reserved. Do not reproduce without permission.
Tags:
kwave
,
kwave news
,
kwave updates
,
Kpop
,
kpop news
,
Kpop updates
,
EDAM
,
EDAM artists
,
Edam Entertainment
,
Edam Entertainment IU
,
IU
,
IU news
,
IU Updates
,
IU IU's Palette
,
IU's Palette AKMU
,
AKMU IU's Palette
,
YG
,
YG artists
,
YG Entertainment
,
YG Entertainment artists
,
YG Entertainment news
,
YG Entertainment updates
,
YG Entertainment AKMU
,
YG Entertainment AKMU news
,
YG Entertainment AKMU updates
,
AKMU
,
AKMU News
,
AKMU updates
,
AKMU Lee Suhyun
,
AKMU Lee Chanhyuk
,
AKMU Chanhyuk
,
AKMU Suhyun
,
AKMU Comeback
,
AKMU new album
,
AKMU Next Episode
,
Next Episode