(G)I-DLE & BLACKPINK's Friendship Is Goals As Miyeon Flexes Her Gift From Minnie & Lisa!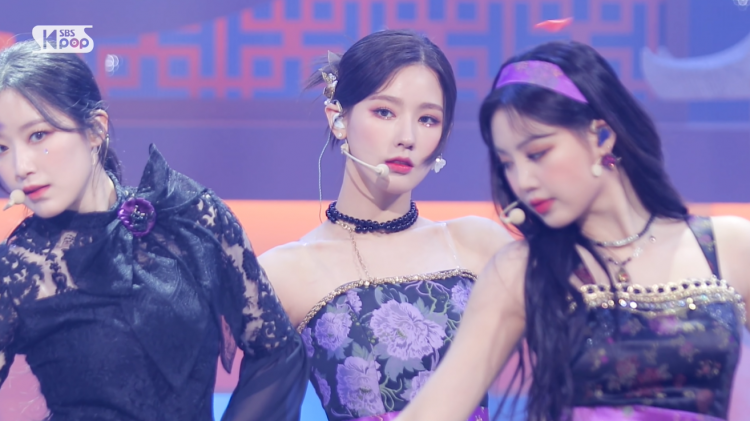 Recently, Neverlands and BLINKs, the fandom name of (G)I-DLE and BLACKPINK, respectively, melted as Lisa and Minnie gave Miyeon a very special and sweet gift for her birthday, showing how close the K-pop stars are!
Netizens and K-pop fans are aware that (G)I-DLE's Miyeon was supposed to debut with BLACKPINK, which explains her closeness with the BLACKPINK members. Furthermore, Lisa and Minnie are also known to be close friends and these friendships have recently intertwined.
On the 31st of January, (G)I-DLE's Miyeon celebrated her birthday. Notably, Miyeon hosted a live broadcast. The K-pop idol did this so that she could celebrate her special day with her beloved fans.
One specific moment in Miyeon's live broadcast had fans melting as the (G)I-DLE member shared some of the gifts she had received from her fellow K-pop idols. One gift went on to stand out as Miyeon showed a beautiful, white, Yves Saint Laurent bag.
READ: ITZY, Red Velvet, (G)I-DLE, & More, K-pop Groups Who Have The Best Live Vocals!
K-pop fans were already speechless at the bag but when (G)I-DLE's Miyeon revealed that it was from both Minnie and BLACKPINK's Lisa as a gift, netizens could not contain their excitement and emotions.
Once Miyeon's viewers found out, they could not help but melt at the love and friendship the (G)I-DLE member received from Lisa and fellow member Minnie. This truly is friendship goals as the gesture showed just how much the K-pop idols care for one another.
After doing researched, K-pop fans found out that the bag Miyeon received from BLACKPINK's Lisa and (G)I-DLE's Minnie was worth ₩2.59 million KRW (which is around $2,150 USD).
Price is truly just a number when a close friendship is involved, proven by the special gift Miyeon received from BLACKPINK's Lisa and (G)I-DLE's Minnie!
© 2023 Korea Portal, All rights reserved. Do not reproduce without permission.
Tags:
kwave
,
kwave news
,
kwave updates
,
Kpop
,
kpop news
,
Kpop updates
,
Cube Entertainment
,
Cube Entertainment artists
,
Cube Entertainment Miyeon
,
Cube Entertainment Minnie
,
Cube Entertainment (G)I-DLE
,
Cube Entertainment (G)I-DLE Minnie
,
Cube Entertainment (G)I-DLE Miyeon
,
(G)I-DLE
,
(G)I-DLE news
,
(G)I-DLE updates
,
(G)I-DLE and BLACKPINK
,
BLACKPINK and (G)I-DLE
,
(G)I-DLE Minnie
,
(G)I-DLE Minnie news
,
(G)I-DLE Minnie updates
,
Minnie
,
Minnie news
,
Minnie updates
,
(G)I-DLE Miyeon
,
(G)I-DLE Miyeon news
,
(G)I-DLE Miyeon updates
,
(G)I-DLE Miyeon birthday
,
Miyeon
,
Miyeon news
,
Miyeon updates
,
Miyeon birthday
,
Miyeon live broadcast
,
(G)I-DLE Miyeon live broadcast
,
BLACKPINK
,
Blackpink news
,
Blackpink updates
,
blackpink lisa
,
BLACKPINK Lisa news
,
BLACKPINK Lisa updates
,
Lisa
,
Lisa news
,
Lisa updates
,
Lisa and Miyeon
,
Miyeon and Lisa