Her Growth, Plans, & More, Wonyoung Of IVE Goes In-Depth With Harper's Bazaar!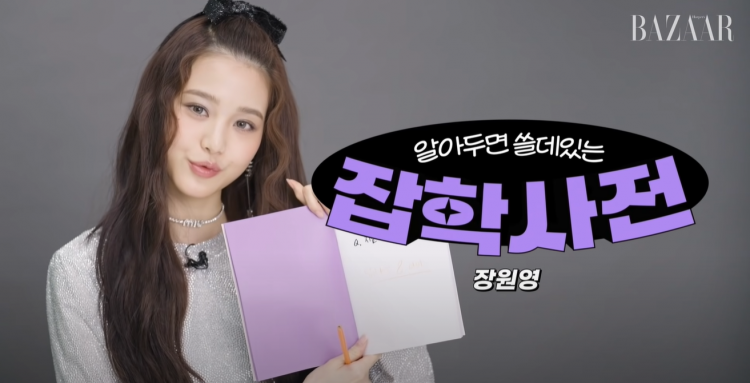 On the 26th of November, IVE's Wonyoung was featured in a photo shoot and interview with Harper's Bazaar.
In the interview, Wonyoung talked about becoming 18, having a rebellious phase, the growth she had, and her future.
READ: Starship Entertainment's IVE Announces Official Promotional Schedule For Their Debut!
On finally becoming 18, IVE's Wonyoung remarked that she'd always wanted to be an adult, but she has also hoped that she could stay 18 for a little bit longer as she wants to enjoy this time in her life and make happy memories.
"I try not to forget to take time for myself. Even if I don't do anything special, I'll take the time to sort out my thoughts or prepare for the next day. I think that if I have time for myself, that's happiness," IVE's Wonyoung shared when asked how she made herself happy every day.
Regarding whether or not she had a rebellious phase, Wonyoung explained that she had been working since she was young; thus, she never had a rebellious phase. Adorably at most, she had lost track of time and occasionally arrived late to her scheduled practices.
READ: K-Pop Prediction: 4th-Gen Girl Groups Will Dominate 2022
On her maturity, Wonyoung expressed that she has developed the habit of being patient. Previously, she would try to escape or ignore what was happening if she was in an uncomfortable or difficult situation, but now she focuses on finding solutions.
Making fans excited, Wonyoung talked about her future by saying that she wants to study more, perhaps abroad. She does regret not doing things she wanted, but she mainly wants to travel and do a lot of things she previously wanted to do.
Starship Entertainment's IVE is scheduled to make its debut on the 1st of December!
Stay tuned for more news and updates regarding your favorite K-pop artists!
© 2023 Korea Portal, All rights reserved. Do not reproduce without permission.
Tags:
kwave
,
kwave news
,
kwave updates
,
Kpop
,
kpop news
,
Kpop updates
,
Starship Entertainment
,
Starship Entertainment artists
,
Starship Entertainment IVE
,
Starship Entertainment IVE Wonyoung
,
Starship Entertainment IVE Jang Wonyoung
,
Starship Entertainment Wonyoung
,
Starship Entertainment Jang Wonyoung
,
IVE
,
IVE news
,
IVE updates
,
IVE Wonyoung
,
IVE Wonyoung news
,
IVE Wonyoung updates
,
harper's bazaar IVE Wonyoung
,
IVE Wonyoung harper's bazaar
,
IVE Jang Wonyoung
,
IVE Jang Wonyoung news
,
IVE Jang Wonyoung updates
,
harper's bazaar IVE Jang Wonyoung
,
IVE Jang Wonyoung harper's bazaar
,
Wonyoung
,
Wonyoung news
,
Wonyoung updates
,
Jang Wonyoung
,
Jang Wonyoung news
,
Jang Wonyoung updates