Mnet Editing: Did Former 'Girls Planet 999' Contestant Fu Yaning Truly Dislike Choi Yujin?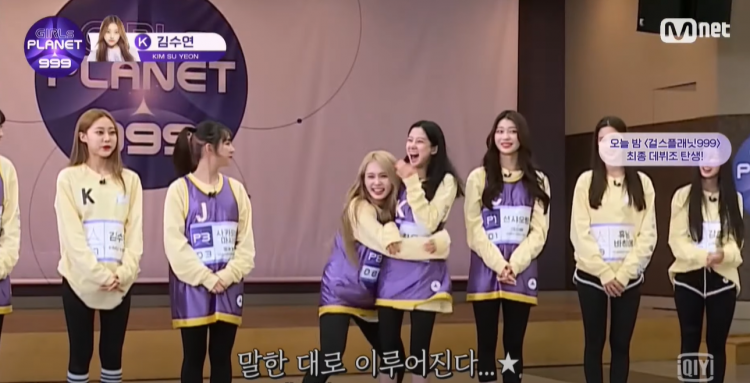 Mnet is well known for editing or exaggerating certain moments in their shows. "Girls Planet 999" was no exception as Mnet tried to build a false rivalry between two contestants.
More specifically, fans recalled a 'disrespectful' moment between Fu Yaning and Choi Yujin. In a certain evaluation stage, Fu Yaning's group performed CLC's "Helicopter," the former group Yujin was a part of.
Prior to performing, the mentors of "Girls Planet 999" asked Fu Yaning if she wanted to say anything to Choi Yujin. Fu Yaning responded by saying, "We go up, but you don't."
But it seems as though the rivalry between the two was just a false narrative as in a recent live broadcast on Instagram, Fu Yaning updated her fans and talked about her friendship with Yujin.
In Fu Yaning's Instagram live, she had nothing but sweet words to give regarding Yujin.
"Yujin unnie is a girl I really really treasure and like, sigh, because I don't know how to put this, Yujin unnie, I miss you. I don't know what she's doing now. Is she really busy after forming the group? I don't know," Fu Yaning adorably expressed.
Beyond this, Fu Yaning then asked 'Yujin unnie, what are you doing? I miss you.' Proving that she had no disdain towards the current member of Kep1er.
Aside from this, both Fu Yaning and Yujin have been seen on "Girls Planet 999" as having a healthy and friendly relationship. Furthermore, Fu Yaning posted a picture of her and Yujin on Weibo.
Viewers now believe that Mnet's crafty editing once again led them to believe that Fu Yaning and Yujin had a rivalry but it was far from the truth.
Regardless, fans want to see more interaction between Fu Yaning and Yujin as the two seem to have a sweet spot for one another.
© 2023 Korea Portal, All rights reserved. Do not reproduce without permission.
Tags:
kwave
,
kwave news
,
kwave updates
,
Kpop
,
kpop news
,
Kpop updates
,
Mnet
,
Mnet Girls Planet 999 news
,
mnet news
,
mnet updates
,
Mnet editing
,
mnet shows
,
Mnet programs
,
Mnet survival shows
,
Girls Planet 999
,
Girls Planet 999 news
,
Girls Planet 999 updates
,
Girls Planet 999 Fu Yaning
,
Girls Planet 999 Choi Yujin
,
Fu Yaning
,
Fu Yaning news
,
Fu Yaning updates
,
Fu Yaning and Yujin
,
Yujin and Fu Yaning
,
Choi Yujin and Fu Yaning
,
Fu Yaning and Choi Yujin
,
Choi Yujin
,
Choi Yujin news
,
Choi Yujin updates
,
CLC Choi Yujin
,
Kep1er Choi Yujin
,
Kep1er Choi Yujin news
,
Kep1er Choi Yujin updates
,
Kep1er
,
Kep1er news
,
Kep1er updates
,
CLC Yujin
,
Kep1er Yujin
,
Kep1er Yujin news
,
Kep1er Yujin updates
,
Yujin
,
Yujin news
,
Yujin updates