Get To Know 'Kep1er': The 9-membered Girl Group From 'PLANET 999'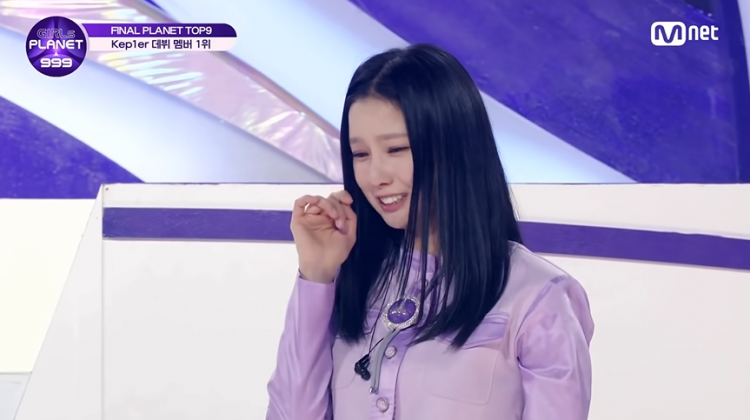 The South Korean idol survival show "Girls Planet 999" has aired its final episode on October 22, and the final group lineup was announced. Get to the members of "Kep1er"!
#9 Shen Xiao Ting
Ranking ninth is C-group trainee Shen Xiao Ting. The Chinese trainee from TOP CLASS Entertainment is the last member to be added to the lineup. She received a total of 700,663 votes. Shen Xiao Ting was an early favorite as she has previously competed on "Produce Camp 2020." Prior to the final episode, Shen Xiao Ting was consistently ranking within the top 3. Her specialty is dance.
#8 Sakamoto Mashiro
Securing the eighth spot and the first "Kep1er" member to be announced is J-group trainee Sakamoto Mashiro. The Japanese trainee captured the attention of planet guardians for her stable vocals and outstanding leadership skills. Sakamoto Mashiro was previously a JYP Entertainment trainee and was even rumored to debut with ITZY. She garnered a total of 708,149 votes.
#7 Ezaki Hikaru
With a total of 713,322 votes, J-Group's Ezaki Hikaru is the second "Kep1er" member to be announced. She has consistently ranked within the top 4 throughout the show. Ezaki Hikaru's specialty is rapping.
#6 Kang Yeseo
The former Busters member took the sixth spot in the final ranking with 770,561 votes. In her speech, the 16-year-old thanked the Planet Guardians, her family, and everyone who has supported her in this journey. Kang Yeseo also expressed her happiness of being able to debut with Mashiro saying, "Mashiro, we made it together! I'm so happy now."
#5 Seo Youngeun
BIScuit Entertainment trainee Seo Youngeun placed fifth after garnering a total of 781,657 votes. Seo Youngeun's special ability is dancing. Since the evaluation, Seo Youngeun has consistently ranked within the top 10.
#4 Kim Dayeon
K-group's Kim Dayeon placed fourth with a total of 885,286 votes. Coming from Jellyfish Entertainment, Kim Dayeon's special ability is dance. The 18-year-old has consistently ranked high throughout the entire show and is one of the favorites in the series.
#3 Choi Yujin
Probably the most famous contestant, CLC's Yujin placed third and secured a spot in the girl group Kep1er. Fans celebrated Yujin's second chance to have a brighter career in the K-Pop industry. Yujin garnered a total of 915,722 points from Planet Guardians.
#2 Huening Bahiyyih
Play M Entertainment's Huening Bahiyyih garnered a total of 923,567 points from Planet Guardians. The younger sibling of Tomorrow x Together's Kai is a fan favorite and is oftentimes praised for her dance skills.
#1 Kim Chaehyun
Kim Chaehyun took home the top spot becoming the center of Kep1er. The former SM Entertainment trainee has trained together with aespa members and she got the attention of Planet Guardians for her singing abilities. Kim Chaehyun garnered a total of 1,081,182 points from Planet Guardians. "My story in Girls Planet 999 is a happy ending. Thank you. As masters always said, I'll try to cherish all the performances. Thank you again," Kim Chaehyun expressed in her speech.
Stay tuned for more updates about Kep1er.
© 2023 Korea Portal, All rights reserved. Do not reproduce without permission.
Tags:
Girls Planet 999
,
mnet girls planet 999
,
Girls Planet 999 news
,
Girls Planet 999 updates
,
Mnet Girls Planet 999 news
,
Mnet Girls Planet 999 updates
,
CLC Yujin Girls Planet 999
,
Girls Planet 999 CLC Yujin
,
Girls Planet 999 when to air
,
Girls Planet 999 Kep1er
,
kep1er kpop
,
Kep1er
,
Kep1er news
,
Kep1er updates
,
kpop news
,
Kpop updates