Is Sunmi Secretly Naevis? aespa & Former Wonder Girls Member Have A Wholesome Interaction!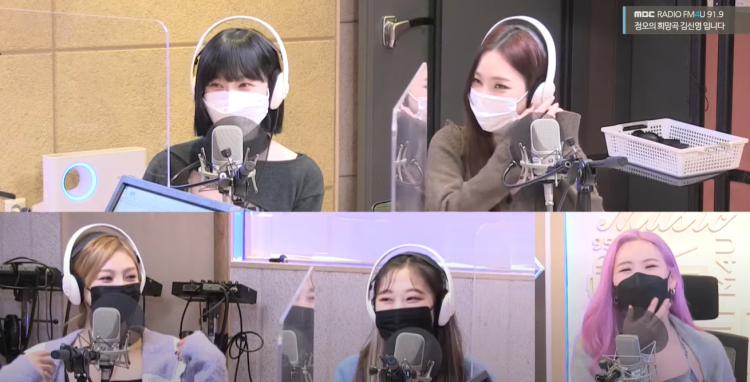 Fans and netizens recently adorably in awe as the guest host of a show that features aespa as guests could be coming to KWANGYA soon!
Former Wonder Girls member Sunmi looks breathtaking with her pink hair and with her new hair comes admiration from MYs (the fandom name of aespa ) as the members of aespa compare Sunmi's new look with a character in the SMCU, also known as the SM Cultural Universe.
Recently on the 7th of October, the members of aespa were featured as the guest stars on MBC Radio's "Noon Song of Hope" and the radio program was filled with wholesome interactions between the SM Entertainment K-Pop group and the program's guest host, Sunmi.
Netizens and fans noticed how sweet and natural the interactions between Sunmi and aespa were! Sunmi and aespa revealed that they were fans of one another and their chemistry was simply on point as everyone felt natural and had an overall good time.
When the radio program ended, Sunmi tweeted about the reaction of the members of aespa regarding her new hair color and fans simply loved it.
Sunmi tweeted, "My aespa friends saw my hair color and said it looked like Naevis! You are really serious about KWANGYA!"
Notably in the SM Cultural Universe, KWANGYA is the alternate dimension where Black Mamba, the villain of the SM Cultural Universe, resides.
Furthermore, Naevis is an AI system that helps aespa's avatars, ae, to be seen in the real world so they can interact with the members of aespa. Karina, Giselle, Winter, and NingNing joined hands with Naevis to fight Black Mamba in the music video of their latest title track, "Savage."
Do you want to see more interaction between the members of aespa and Sunmi?
Stay tuned for more news and updates regarding aespa, Sunmi, and other K-pop artists!
© 2023 Korea Portal, All rights reserved. Do not reproduce without permission.
Tags:
kwave
,
kwave news
,
kwave updates
,
Kpop
,
kpop news
,
Kpop updates
,
ABYSS COMPANY
,
ABYSS COMPANY artists
,
ABYSS COMPANY Sunmi
,
Sunmi
,
SUNMI news
,
SUNMI updates
,
SM
,
SM artists
,
SM Entertainment
,
SM Entertainment artists
,
SM Entertainment news
,
SM Entertainment updates
,
SM Entertainment aespa
,
ABYSS COMPANY news
,
ABYSS COMPANY updates
,
aeaspa
,
aeaspa news
,
aeaspa updates
,
aeaspa and Sunmi
,
Sunmi and aeaspa
,
MBC Radio Noon Song of Hope
,
aespa MBC Radio Noon Song of Hope
,
MBC Radio Noon Song of Hope aespa
,
Sunmi MBC Radio Noon Song of Hope
,
MBC Radio Noon Song of Hope Sunmi
,
MBC Radio
,
MBC Radio Sunmi
,
Sunmi MBC Radio
,
aespa MBC Radio
,
MBC Radio aespa
,
Noon Song of Hope
,
Noon Song of Hope news
,
Noon Song of Hope updates
,
Noon Song of Hope aespa
,
Noon Song of Hope Sunmi
,
Sunmi Noon Song of Hope
,
aespa Noon Song of Hope