Girls' Generation's YoonA, Sunny, & Hyoyeon Reveal What A Trainee Should Do To Debut!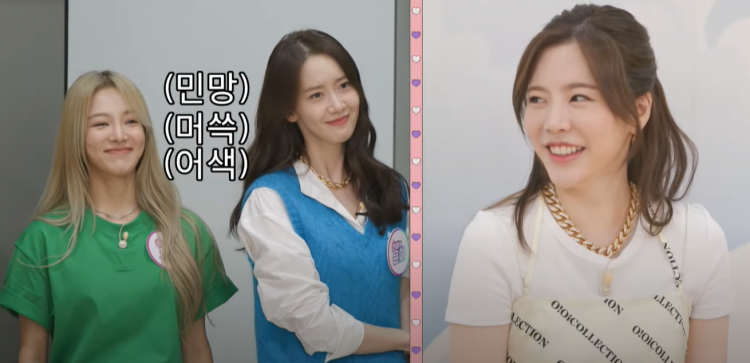 As of writing this article, yesterday on the 29th of September, Girls' Generation's (also known as SNSD) very own YoonA and Hyoyeon were guests on the latest episode of Sunny's "Legendary Trainee" show on YouTube and the SNSD members were adorably funny.
Aside from catching up, the Girl's Generation member shared tips that personally helped them make it through the K-Pop trainee life and debut as members of one of the most iconic and legendary girl groups in history.
In the recent episode of Sunny's "Legendary Trainee," she became 'Soonkyu', a very talented young trainee who is yet to debut. Thus, she gets advice from none other than Girls' Generation's YoonA and Hyoyeon!
In the beginning, when YoonA and Hyoyeon arrived, the three Girls' Generation members danced to some of the choreography from their iconic debut song entitled "Into the New World."
YoonA, Hyoyeon, and Sunny talked about the good old days while eating food from McDonald's. As this went on, Sunny asked YoonA and Hyoyeon for any tips on making it to debut as 'Soonkyu'.
Adorably, Girls' Generation's YoonA and Hyoyeon named the tip they told Soonkyu as "footsteps," confusing both 'Soonkyu' and Sunny.
YoonA revealed, "Sometimes, after a long practice, you want to take a short break. But right at that time, someone passes by and asks, 'Have you been resting this entire time?'"
As YoonA explained, Hyoyeon immediately remembered her trainee days, noting, "Oh, I've heard this too many times!"
"If you hear footsteps while resting, you have to get up quickly and continue practicing," YoonA added.
Thus it can be seen that dedication and perseverance are keys when a K-pop trainee wants to debut in the entertainment industry!
Obviously, the members of one of the most iconic K-pop groups of all time should know what it takes to make it as a trainee.
© 2023 Korea Portal, All rights reserved. Do not reproduce without permission.
Tags:
kwave
,
kwave news
,
kwave updates
,
Kpop
,
kpop news
,
Kpop updates
,
SM
,
SM artists
,
SM Entertainment
,
SM Entertainment artists
,
SM Entertainment news
,
SM Entertainment updates
,
SM Entertainment SNSD
,
SM Entertainment Girls Generation
,
Girls' Generation
,
Girls' Generation Yoona
,
Girls Generation Hyoyeon
,
Girls Generation Sunny
,
Girls' Generation Sunny news
,
Girls' Generation Sunny updates
,
Girls' Generation YoonA news
,
Girls' Generation Yoona updates
,
Girls' Generation Hyoyeon news
,
Girls' Generation Hyoyeon updates
,
SNSD
,
SNSD Sunny
,
SNSD Yoona
,
SNSD Hyoyeon
,
SNSD Yoona news
,
SNSD Yoona updates
,
SNSD Hyoyeon news
,
SNSD Hyoyeon updates
,
SNSD Sunny news
,
SNSD Sunny updates
,
Girls' Generation Sunny Legendary Trainee
,
Legendary Trainee
,
Legendary Trainee Girls' Generation Sunny