YoonA Got A Lead Role Due To Her Sister? Girls' Generation's Member Spills Tea!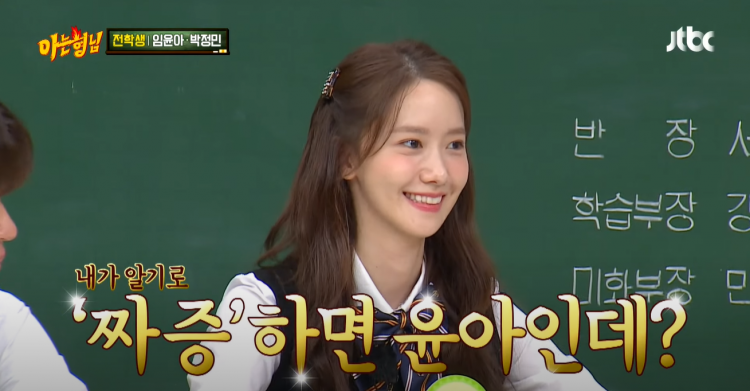 As of writing this article, two days ago on the 25th of September, in an episode of JTBC's "Ask Us Anything," Girls' Generation's very own YoonA made an appearance as a guest alongside her co-star Park Jung Min in their new film entitled "Miracle."
In the show, the Girls' Generation's (also known as SNSD) YoonA shared a funny moment on how a real-life moment with her older sister helped her get the lead role in a movie.
In the program, Kang Ho Dong, who is a member of the cast, noted that he heard that YoonA was cast in "Miracle" due to a real-life event.
Girls' Generation's YoonA then revealed, "I did a live broadcast while eating out with my older sister, and the director saw a clip of me getting a little annoyed during the broadcast. He said that he cast me after seeing the video because he thought I'd suit this role."
JTBC's "Ask Us Anything" then played the clip and in the short video, YoonA adorably showed off the food she was eating alongside her sister. YoonA's sister was then shown attempting to fix the camera's angle but instead, she accidentally knocks the camera over.
Hilariously, YoonA immediately became serious in the clip and said, "Use your words. Put it where? Here?"
JTBC's "Ask Us Anything" cast member Seo Jang Hoon noted that YoonA's reaction did not reveal that the SNSD member was even annoyed.
Another cast member, Super Junior's very own Kim Heechul hilariously commented, "If that director had watched 'Ask Us Anything,' he could've cast Seo Jang Hoon in YoonA's role." Heechul said this due to Seo Jang Hoon's temper.
This shows how Girls' Generation's YoonA is not just an amazing idol, but an incredibly gifted actor as well!
Stay tuned for more news and updates regarding the Girls' Generation's YoonA!
© 2023 Korea Portal, All rights reserved. Do not reproduce without permission.
Tags:
kwave
,
kwave news
,
kwave updates
,
Kpop
,
kpop news
,
Kpop updates
,
Girls' Generation
,
Girl's Generation News
,
Girl's Generation Updates
,
Girls' Generation members
,
Girls' Generation Yoona
,
Girls' Generation YoonA news
,
Girls' Generation Yoona updates
,
Girls' Generation Yoona Miracle
,
SNSD
,
SNSD news
,
SNSD updates
,
SNSD Yoona
,
SNSD Yoona news
,
SNSD Yoona updates
,
SNSD YoonA Miracle
,
Miracle
,
Miracle news
,
Miracle updates
,
Ask Us Anything
,
Ask Us Anything news
,
Ask Us Anything updates
,
JTBC
,
JTBC News
,
JTBC Updates
,
JTBC Ask Us Anything
,
Seo Jang Hoon
,
Super Junior Kim Heechul
,
Park Jung Min