Eunbi Left In Tears After Former IZ*ONE Member Surprises Her On KCON Stage!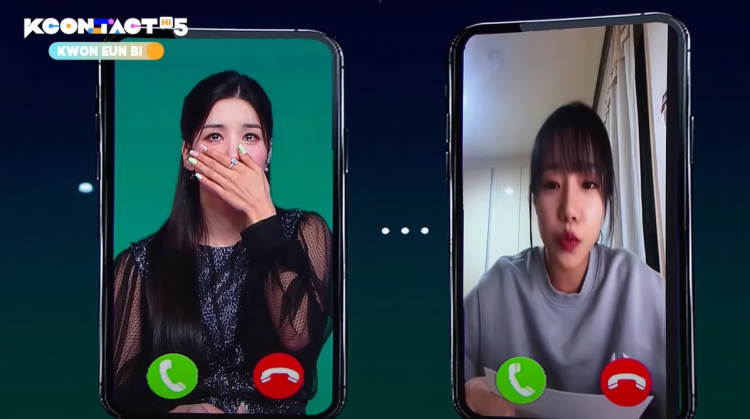 Former IZ*ONE member, Kwon Eunbi, recently had a highly successful solo debut with "Door". Just recently, Eunbi had her first KCON stage as a solo artist, and on it came a huge surprise.
As a natural artist, Eunbi had no trouble at all on her first steps as a soloist. In the middle of Eunbi's performance, she took a video call from fans. This has become more common as the pandemic has been raging on and fans can not interact with their idols in person yet.
Notably, as Kwon Eunbi began to prepare herself to have a video call with a fan, a very familiar 'face' appeared on stage. Another former IZ*ONE member, Jo Yuri, was the face that showed up, showing her support to the former IZ*ONE leader.
At first, Kwon Eunbi was very surprised and speechless at Jo Yuri's appearance, but once she had settled down and accepted the fact that Yuri was on screen, tears started falling down her cheeks.
To further make Eunbi and fans emotional, Yuri prepared a very special and emotional letter to congratulate Kwon Eunbi on her success with her solo debut.
Yuri's message is as follows:
"Hello Eunbi unnie, this is Yuri. I came here today to be a strength for unnie who is alone on the stages that we used to perform together on. As I watched you work hard to prepare for 'Door' and the song first came out, I was happy as if it was my own song, you have no idea!
It's great to see you doing so well and you're so cool, unnie! Finish the rest of the stages well and to everyone watching, please enjoy until the end. Unnie! Let's go eat together after the holidays are over. I love you, Kwon Eunbi!"
IZ*ONE abruptly disbanded earlier this year and although a plethora of fans did their best to revive the group, IZ*ONE still ultimately did not return. Thus, WIZ*ONEs (the fandom name of IZ*ONE) are very emotional whenever the former members show each other support.
Congratulations to Kwon Eunbi on her very first KCON as a solo artist!
© 2023 Korea Portal, All rights reserved. Do not reproduce without permission.
Tags:
kwave
,
kwave news
,
kwave updates
,
Kpop
,
kpop news
,
Kpop updates
,
IZ*ONE
,
IZ*ONE news
,
IZ*ONE updates
,
IZ*ONE members
,
IZ*ONE former members
,
IZ*ONE Eunbi
,
IZ*ONE Eunbi news
,
IZ*ONE Eunbi updates
,
IZ*ONE Eunbi solo
,
IZ*ONE Eunbi solo debut
,
IZ*ONE Eunbi debut
,
IZ*ONE Yuri
,
IZ*ONE Yuri news
,
IZ*ONE Yuri updates
,
Kwon Eunbi
,
Kwon Eunbi news
,
Kwon Eunbi updates
,
Kwon Eunbi solo
,
Kwon Eunbi debut
,
Kwon Eunbi solo debut
,
Kwon Eunbi Door
,
Eunbi
,
Eunbi news
,
Eunbi updates
,
Eunbi Door
,
Eunbi solo
,
Eunbi solo debut
,
Jo Yuri
,
Jo Yuri news
,
Jo Yuri updates
,
Yuri
,
Yuri news
,
Yuri updates
,
Yuri and Eunbi
,
Eunbi and Yuri
,
Jo Yuri and Kwon Eunbi
,
Kwon Eunbi and Jo Yuri
,
KCON
,
KCON Eunbi
,
KCON Kwon Eunbi
,
Eunbi KCON
,
Eunbi Kwon KCON