Is MAMAMOO's Solar Okay? Netizens Worried After Solar Revealed Her New Extreme Diet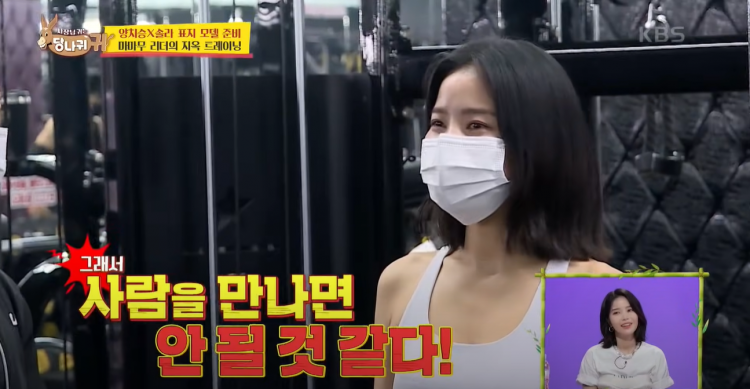 Just recently, Solar (MAMAMOO's leader) has gone on to share that she underwent a diet. This was due to the fact that Solar was chosen to be featured as a model on the cover of a male magazine.
Thus, MAMAMOO's Solar decidedly went on a diet to transform her body, preparing well for the magazine photoshoot. She notably revealed this on KBS2's show entitled "Boss in the Mirror."
As per the MAMAMOO member, she successfully lost 7.4% of fat following an immensely extreme exercise and food die which happened in a span of two months. Although she got the results she wanted, Solar shared that her now toned body came with a hefty price.
Notably, through her Instagram posts, MAMAMOO's Solar did indeed have a better jawline and tighter abs. But her extreme diet and exercise took a toll on her body, giving her somewhat of a health complication.
Jun Hyun Moo, the MC, shared that it was his first opportunity to see MAMAMOO's Solar look extremely fit. Notably, Hyun Moo added that Solar did not have a focus in her eyes.
"Every moment is hard and my eyes lose focus," MAMAMOO's Solar revealed.
According to her, on that day when she went to meet her trainer at the gym, the MAMAMOO leader only ate lettuce, 150g of beef, two boiled eggs, and half an apple.
Currently, MAMAMOO's Solar only has one more month until her photoshoot is over. This means that she only has one more month to undergo the strenuous diet and exercise. As a K-pop star like her, Solar is used to things such as a strict diet and exercise but she is human at the end of the day.
Hopefully, Solar will be able to eat whatever she wants after her photoshoot ends. She deserves that, after all.
© 2022 Korea Portal, All rights reserved. Do not reproduce without permission.
Tags:
KBS2
,
KBS2 show
,
KBS2 Boss in the Mirror
,
Boss in the Mirror
,
Boss in the Mirror Solar
,
Solar Boss in the Mirror
,
MAMAMOO Solar Boss in the Mirror
,
Boss in the Mirror MAMAMOO Solar
,
RBW
,
RBW artists
,
RBW Entertainment
,
RBW Entertainment artists
,
RBW Entertainment news
,
RBW Entertainment updates
,
RBW Entertainment MAMAMOO
,
RBW Entertainment MAMAMOO Solar
,
Mamamoo
,
MAMAMOO News
,
MAMAMOO Updates
,
mamamoo solar
,
MAMAMOO Solar news
,
MAMAMOO Solar updates
,
MooMoo
,
Moomoos
,
solar
,
Solar news
,
Solar updates
,
Solar diet
,
MAMAMOO Solar diet