ITZY's Ryujin Not Happy After Seeing Her TikTok Challenge With WJSN, Here's Why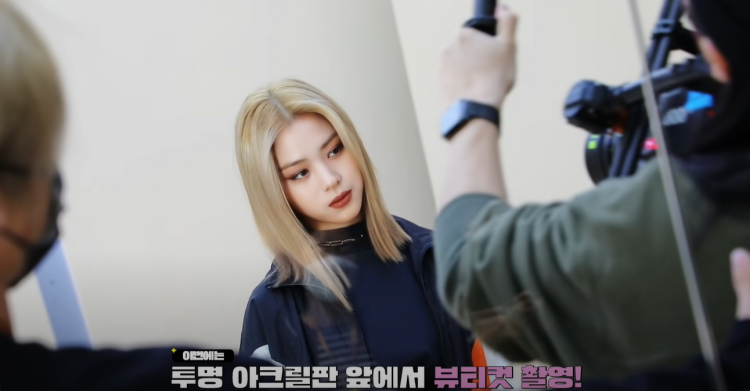 ITZY's Ryujin, alongside the other members of JYP Entertainment's ITZY, are known for their ability to dance. Aside from this, the ITZY members are perfectionists when it comes to choreography. Thus, anything less than perfect is unacceptable for them.
This was evident as a member of ITZY previously had a live broadcast on V LIVE and she shared her discontent with a recent TikTok challenge she was a part of.
WJSN alongside ITZY both approximately promoted at the same time previously in May. ITZY dropped their hit song "In the morning" which is also known as "MAFIA" and WJSN THE BLACK promoted their hit track, "EASY."
Notably, due to the fact that the two K-pop girl groups were together while waiting for their turn to perform on a music show, ITZY and WJSN decided to show their talents and friendly nature by doing each other's TikTok challenges.
Fans were elated as members of ITZY and members of WJSN both did the challenges for "In the morning" and "EASY." Although the challenges were not that long, fans and netizens still loved it as the performances the girls of ITZY and WJSN did were amazing.
Notably, WJSN's Exy and Bona, and ITZY's Ryujin and Yeji flexed their dancing skills through their TikTok challenges.
Following this, previously in May, ITZY's Ryujin had a live broadcast on V LIVE. She showed her strictness and ability to want everything to be perfect by noting that she wished she did better in the TikTok videos.
ITZY's Ryujin revealed, "I filmed a challenge with WJSN. I was kind of disappointed because I wasn't sure of the dance."
The standards ITZY's Ryujin puts herself are truly so high, even doing fun challenges should be perfect for her.
"I could have danced better. I was just focused on getting the beat right. I am disappointed because I don't think I danced well," ITZY's Ryujin added.
Regardless, Ryujin noted that WJSN was able to teach her the dances well. Even going on to compliment Exy and Bona by saying, "They are so pretty. The best. Really! Their personalities were so good."
© 2022 Korea Portal, All rights reserved. Do not reproduce without permission.
Tags:
kwave
,
kwave news
,
kwave updates
,
Kpop
,
kpop news
,
Kpop updates
,
JYP
,
JYP artists
,
JYP Entertainment
,
JYP Entertainment artists
,
JYP Entertainment news
,
JYP Entertainment updates
,
JYP Entertainment ITZY
,
JYP Entertainment ITZY Ryujin
,
ITZY
,
ITZY News
,
ITZY updates
,
ITZY Ryujin
,
ITZY Ryujin news
,
ITZY Ryujin updates
,
Tiktok
,
Kpop TikTok
,
ITZY TikTOk
,
WJSN
,
WJSN TikTok
,
ITZY Mafia In The Morning
,
ITZY In the morning
,
Mafia In The Morning
,
In The Morning
,
Mafia
,
ITZY mafia
,
WJSN THE BLACK
,
WJSN THE BLACK EASY
,
WJSN EASY
,
Easy
,
ITZY and WJSN
,
WJSN and ITZY
,
V Live
,
ITZY V Live
,
ITZY Ryujin V LIVE