Netizens Swoon As Olympic Swimmer Hwang Sunwoo Receives Support From BLACKPINK's Jennie & ITZY's Yeji!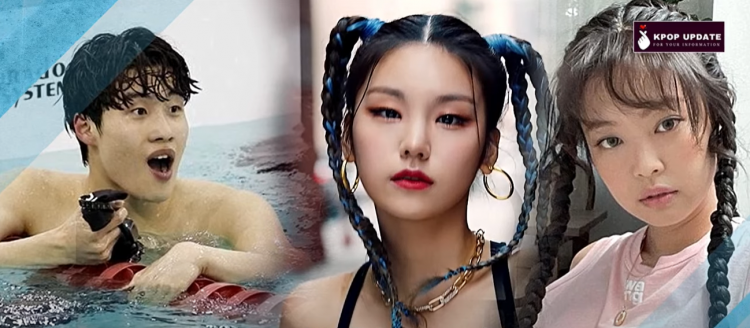 As of writing this article, South Korean swimmer Hwang Sunwoo went on to set an Asian record at the 2020 Summer Olympics. Currently, he is participating in the Olympics, but it seems as though Hwang Sunwoo has won something that is possibly more precious than gold.
Just recently, ITZY's Yeji and BLACKPINK's Jennie, Hwang Sunwoo's favorite K-pop idols, noticed the swimmer and showed their support towards the olympian!
Previously, the Olympic swimmer revealed in a TV interview that he is a huge fan of both BLACKPINK's Jennie and ITZY's Yeji. The interviewer noted, "They might be able to recognize you now."
Hwang Sunwoo then went on to respond, "I would be really happy if they did."
As of writing this article, three days ago on the 27th of July, Sunwoo got his wish as ITZY's Yeji went on to ITZY's official Instagram account to post a story, cheering him on prior to his 200m freestyle final.
In the now expired story, ITZY's Yeji shared a photo that had a finger heart and a letter, "Hwang Sunwoo, good luck with the final that's about to take place! I'll be rooting for you too!!! Yeji."
Following this sweet message, Hwang Sunwoo posted a screenshot of his story of ITZY Yeji's post with an emoji and a caption "...." that rendered him speechless and surprised.
Then, the Olympian once again was surprised when on the 29th of July, BLACKPINK's Jennie also showed her support for the athlete by posting a story on her personal Instagram of Hwang Sunwoo swimming alongside the caption, "I'm rooting for you too. Let's go, Hwang Sunwoo!"
Similar to Yeji's post, Hwang Sunwoo once again took a screenshot but this time of Jennie's post, and then posted on his Instagram stories alongside the caption, "My hands are shaking..."
Congratulations to the Olympic swimmer Hwang Sunwoo on not only being an Olympian but also being noticed by his two favorite K-pop idols!
© 2023 Korea Portal, All rights reserved. Do not reproduce without permission.
Tags:
Hwang Sunwoo
,
Hwang Sunwoo news
,
Hwang Sunwoo updates
,
olympics
,
Hwang Sunwoo Olympics
,
Olympipcs Hwang Sunwoo
,
Hwang Sunwoo Olympian
,
Olympian Hwang Sunwoo
,
kwave
,
kwave news
,
kwave updates
,
Kpop
,
kpop news
,
Kpop updates
,
JYP
,
JYP artists
,
JYP Entertainment
,
JYP Entertainment artists
,
JYP Entertainment ITZY
,
JYP Entertainment ITZY Yeji
,
ITZY
,
ITZY News
,
ITZY udpates
,
ITZY Instagram
,
instagram
,
ITZY Yeji
,
ITZY Yeji news
,
ITZY Yeji updates
,
yeji
,
Yeji news
,
Yeji updates
,
YG
,
YG artists
,
YG Entertainment
,
YG Entertainment artists
,
YG Entertainment news
,
YG Entertainment updates
,
YG Entertainment BLACKPINK
,
YG Entertainment BLACKPINK Jennie
,
BLACKPINK
,
Blackpink news
,
Blackpink updates
,
blackpink jennie
,
BLACKPINK Jennie Instagram
,
BLACKPINK Jennie news
,
BLACKPINK Jennie updates
,
Jennie
,
Jennie news
,
Jennie updates