Netizens & MooMoos Showed Love Towards MAMAMOO's Hwasa As She Opens A New YouTube Channel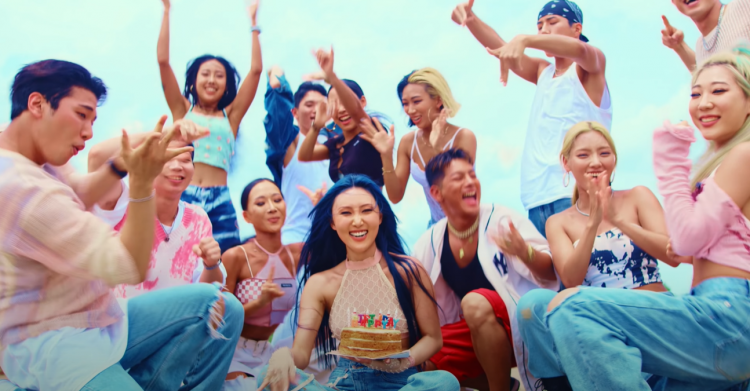 Previously on the 24th of January, 2019, MAMAMOO's leader and vocalist, Solar, started her own YouTube channel (솔라시도 solarsido).
Netizens and MooMoos (the fandom name of MAMAMOO) were quick to show their support as currently, 솔라시도 solarsido has 3.24 million subscribers. Beyond the subscribers, MAMAMOO's Solar has a total of 197,012,532 views which were garnered from her large number of videos.
Notably, MAMAMOO's Solar also uploads videos regularly even though she is a busy K-pop star. The types of videos Solar uploads also vary in terms of content, making her channel pretty versatile with its content. This shows how dedicated the leader of MAMAMOO is.
Recently, a second member of MAMAMOO also went on to start her YouTube channel and netizens and MooMoos once again showed their love and support towards the member!
On the 23rd of July, MAMAMOO's maknae, Hwasa, has gone on to open a new YouTube channel (HWASA official) to the delight of netizens, MooMoos, and her personal fans.
Hwasa celebrated her birthday previously on July 23 and on the same day she launched her own official YouTube channel. Within 15 hours, MAMAMOO's Hwasa already garnered a total of 130,000 subscribers, only with just two videos.
MAMAMOO's Hwasa's first video was a beautiful introduction. In the intro, the MAMAMOO member wrote "Hwasa or Maria. I'll share my daily life with you. Hwasa? Or Maria? Let me see! This is me! Now, let me tell you about me. Actually, there's nothing special :)"
For her second video, MAMAMOO's Hwasa posted a "draft version" of "Dingga," MAMAMOO's 2020 hit track.
The first and second videos of MAMAMOO's Hwasa currently have 198k views and 306k views, respectively.
Currently, as of writing this article, MAMAMOO's Hwasa has 158k subscribers and it seems that she is garnering subscribers in a pretty speedy way.
Congratulations to MAMAMOO's Hwasa for her new YouTube Channel!
© 2023 Korea Portal, All rights reserved. Do not reproduce without permission.
Tags:
kwave
,
kwave news
,
kwave updates
,
Kpop
,
kpop news
,
Kpop updates
,
RBW
,
RBW artists
,
RBW Entertainment
,
RBW Entertainment news
,
RBW Entertainment updates
,
RBW MAMAMOO
,
RBW MAMAMOO news
,
RBW MAMAMOO updates
,
Mamamoo
,
MAMAMOO News
,
MAMAMOO Updates
,
MAMAMOO Hwasa
,
MAMAMOO Hwasa news
,
MAMAMOO Hwasa updates
,
MAMAMOO Hwasa birthday
,
MAMAMOO Hwasa YouTube
,
MAMAMOO Hwasa YouTube channel
,
MAMAMOO Hwasa HWASA official
,
HWASA official
,
HWASA official YouTube
,
HWASA official YouTube Channel
,
YouTube
,
Hwasa
,
Hwasa news
,
Hwasa updates
,
Hwasa YouTube
,
Hwasa YouTube channel