aespa, TWICE, MAMAMOO, & More, 50 Popular Influencers Lists 2021's Top Female K-Pop Artists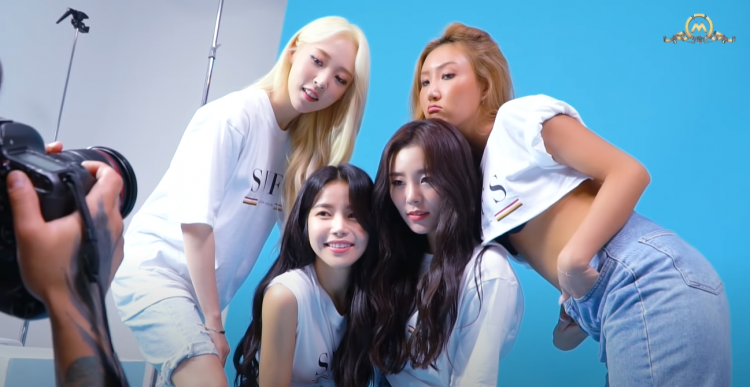 This July, SOON ENT, a popular media entertainment agency, started a poll between 50 well-known South Korean influencers, who have a total follower count of 160 million, to vote for their picks of the best K-pop artists from the first half of 2021.
Here are the 50 South Korean influencers' picks of the top 5 female K-pop artists for 2021:
#1. SM Entertainment's aespa - 24 votes
aespa began 2021 year with the remake single "Forever." Following this in May, aespa dropped "Next Level." Their latest song immediately became an immense hit which made MYs (aespa's fandom name) and netizens excited for SM Entertainment's rookie K-pop girl group's future.
#2. JYP Entertainment's TWICE - 9 votes
TWICE started 2021 right with their second online concert "Twice in Wonderland." In the concert, TWICE revealed "Kura Kura," its most recent Japanese single from their album "Perfect World."
Moreover, TWICE's "Taste of Love," with the title track "Alcohol-Free," also became a huge hit as it topped charts and won a plethora of awards.
#2. Brave Entertainment's Brave Girls - 9 votes
Brave Girls' 2017 song "Rollin'" propelled them to superstardom as it became the K-pop track with the most number of Perfect All-Kills for a girl group ever. Brave Girls also got their first win on SBS's "Inkigayo" 1,584 days after their debut, breaking the record for the longest time between a first win and a debut.
Riding their success, Brave Girls released "Summer Queen" as their comeback with the title song "Chi Mat Ba Ram."
#3. RBW's MAMAMOO - 5 votes
Although starting 2021 off with a muddled future, all members of MAMAMOO decided to resign for the most part of 2 years. Although Wheein decidedly chose to part ways, she decided to be a part of MAMAMOO and their promotions well until 2023.
Moreover, MAMAMOO became the first K-Pop group to host a virtual concert on LiveNOW. Following this, MAMAMOO announced "WAW (Where Are We)," commemorating their seventh anniversary.
This includes an album, a concert this summer, and a documentary. Being already release, MAMAMOO's album "WAW" became an instant hit with MOOMOOs (their fandom name) and netizens.
#4. SM Entertainment's (Girls' Generation) Taeyeon - 3 votes
The only soloist to make this list, Taeyeon's 2021 started off with a bang. Prior to the beginning of 2021, she came back as a host on a variety show after 10 years after joining tvN's "Amazing Saturday."
Following this, Taeyeon became featured on SHINee's Taemin's album, "Advice" featuring in the track "If I Could Tell You."
Just recently, Taeyeon made a comeback with her digital single "Weekend."
Congratulations to all the female K-pop artists who made it on the list!
© 2023 Korea Portal, All rights reserved. Do not reproduce without permission.
Tags:
SOON ENT
,
SOON ENT news
,
SOON ENT updates
,
kwave
,
kwave news
,
kwave updates
,
Kpop
,
kpop news
,
Kpop updates
,
SM
,
SM artists
,
SM Entertainment
,
SM Entertainment aespa
,
SM Entertainment aespa news
,
SM Entertainment aespa updates
,
aespa
,
aespa news
,
aespa updates
,
JYP
,
JYP artists
,
JYP Entertainment
,
JYP Entertainment artists
,
JYP Entertainment TWICE
,
JYP Entertainment TWICE news
,
JYP Entertainment TWICE updates
,
TWICE
,
TWICE news
,
TWICE Updates
,
Brave Entertainment
,
Brave Entertainment artists
,
Brave Entertainment Brave Girls
,
Brave Entertainment Brave Girls news
,
Brave Entertainment Brave Girls updates
,
Brave Girls
,
Brave Girls news
,
Brave Girls updates
,
RBW
,
RBW artists
,
RBW Entertainment
,
RBW Entertainment artists
,
RBW MAMAMOO
,
RBW MAMAMOO news
,
RBW MAMAMOO updates
,
Mamamoo
,
MAMAMOO News
,
MAMAMOO Updates
,
SM Entertainment Taeyeon
,
SM Entertainment Taeyeon news
,
SM Entertainment Taeyeon updates
,
Taeyeon
,
Taeyeon news
,
Taeyeon updates
,
Girls' Generation
,
girls generation taeyeon
,
Girls' Generation Taeyeon news
,
Girls' Generation Taeyeon updates
,
SNSD
,
SNSD Taeyeon
,
SNSD Taeyeon news
,
SNSD Taeyeon updates