Netizens In Awe As TWICE Showers Tzuyu With Love & Support On Her Melody Project!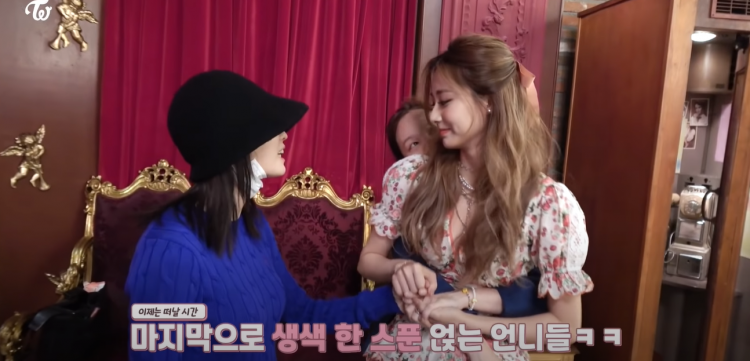 On the 5th of July, a video entitled "TZUYU "ME!" Melody Project Behind the Scenes" was uploaded to TWICE's official YouTube channel and in the video, it showed behind the scenes clips on Tzuyu's melody project!
Aside from sharing why she chose Stray Kids' Bang Chan as a collaboration partner, TWICE's Tzuyu talked about how scared she was of singing along. But the TWICE maknae also revealed that although worried, she was excited about the most part.
Sending her support and love, another young member of TWICE, Chaeyoung, swung by Tzuyu's recording studio. The two maknaes waved at each other, which notably made Tzuyu more at ease.
To add to this, two other members of TWICE also swung by to give Tzuyu their support. TWICE's Momo and Nayeon decidedly visited Tzuyu, which brought a huge smile to the Taiwanese idols' faces.
Regardless of the distance, Nayeon and Momo shared that they came all the way just to show Tzuyu their support and the two TWICE members also brought their maknae food to nibble on.
"We got soaked in the rain. We came all the way to cheer you up! It took hours, even though it was Apgujeong. We got you something delicious to eat," TWICE's Momo and Nayeon noted.
Like real unnies, TWICE's Momo and Nayeon then showered Tzuyu with compliments. TWICE's Momo and Nayeon added, "You seriously look amazing. Pretty, really pretty. You look really mature."
The three TWICE members then decided to take photos of Tzuyu. Momo and Nayeon also made sure to give TWICE's Tzuyu space when she was required to start shooting, fawning over their maknae in the background instead.
At the end of the visit, Nayeon and Momo even joked about Tzuyu paying for their taxi ride back to their home! Which caused everyone to erupt in laughter.
The way TWICE supports Tzuyu and dotes on her is truly heartwarming.
© 2023 Korea Portal, All rights reserved. Do not reproduce without permission.
Tags:
Kpop
,
kpop news
,
Kpop updates
,
kwave
,
kwave news
,
kwave updates
,
JYP
,
JYP artists
,
JYP Entertainment
,
JYP Entertainment artists
,
JYP Entertainment news
,
JYP Entertainment updates
,
JYP Entertainment TWICE
,
JYP Entertainment TWICE news
,
JYP Entertainment TWICE updates
,
TWICE
,
TWICE news
,
TWICE Updates
,
Twice Tzuyu
,
TWICE Tzuyu news
,
TWICE Tzuyu updates
,
TWICE Tzuyu melody project
,
Tzuyu
,
Tzuyu News
,
Tzuyu updates
,
Tzuyu melody project
,
TWICE Nayeon
,
TWICE Momo
,
TWICE Chaeyoung
,
Momo
,
Nayeon
,
Chaeyoung
,
TWICE members
,
members of TWICE