TXT's Yeonjun, TREASURE's Hyunsuk, & More, ELLE's 4th Generation Male Idols Who Are Trendsetters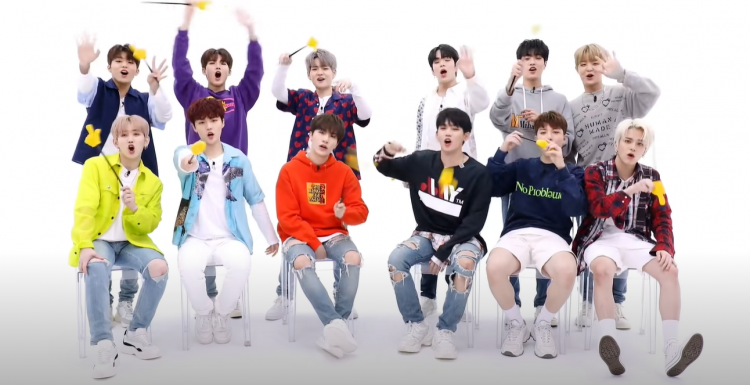 Trendsetters are known as people who usually start ideas and make them trend in the public eye, with ideas such as fashion, food trends, and many more. People who have a lot of fans tend to become trendsetters which makes K-pop idols perfect examples of present-day trendsetters.
Singing, dancing, and sometimes even acting, K-pop idols are known to be amazing performers. Normally, K-pop idols tend to have fans that more often than not follow their ideas, such as fashion trends.
Luxury brands have taken note of this and currently, a lot of brands have taken K-pop idols as ambassadors.
A couple of days ago, ELLE Japan, a popular Japanese magazine, listed their picks for fourth generation K-pop idols who tend to be trendsetters.
Here are the 4th generation male K-pop idols who are notably on the rise as trendsetters:
ATEEZ's Hongjoong
The leader of ATEEZ is famous for his fashionable nature. Hongjoong does not shy away from using unique fashion accessories such as nail polish. Notably ATEEZ's Hongjoon used nail polish as a statement for a campaign against child abuse.
TREASURE's Hyunsuk
All the members of TREASURE are famously in love with fashion but Hyunsuk himself goes beyond the norm. Mostly rocking streetwear, TREASURE's Hyunsuk can make every look work and fans love him for it.
ENHYPEN's NI-KI
Usually garbed in black, ENHYPEN's NI-KI is known to have a unique fashion style. Even though ENHYPEN only debuted last year, NI-KI is already on the rise as one of the notable K-pop idols who is powerful in his fashion style.
TXT's Yeonjun
A member of TXT has already previously been a professional model. He went on to pose for the NY Fashion Week. Thus, TXT's Yeonjun might know a thing or two about fashion. He has the ability to make the most common fashion attire into something more amazing.
© 2023 Korea Portal, All rights reserved. Do not reproduce without permission.
Tags:
Elle
,
ELLE Japan
,
Trends
,
trendsetter
,
kwave
,
kwave news
,
kwave updates
,
Kpop
,
kpop news
,
Kpop updates
,
KQ
,
KQ artists
,
KQ Entertainment
,
KQ Entertainment ATEEZ
,
KQ Entertainment news
,
KQ Entertainment updates
,
ATEEZ
,
ATEEZ news
,
ATEEZ updates
,
ATEEZ Hongjoong
,
ATEEZ Hongjoong news
,
ATEEZ Hongjoong updaets
,
Hongjoong
,
Hongjoong news
,
Hongjoong updates
,
YG
,
YG artists
,
YG Entertainment
,
YG Entertainment artists
,
YG Entertainment news
,
YG Entertainment update
,
YG Entertainment updates
,
YG Entertainment TREASURE
,
YG Entertainment TREASURE news
,
YG Entertainment TREASURE updates
,
Treasure
,
TREASURE news
,
TREASURE updates
,
Treasure Hyunsuk
,
Treasure Hyunsuk news
,
Treasure Hyunsuk updates
,
Hyunsuk
,
Hyunsuk news
,
Hyunsuk updates
,
BELIFT LAB
,
BELIFT LAB news
,
BELIFT LAB updates
,
CJ ENM
,
CJ ENM news
,
CJ ENM updates
,
Enhypen
,
ENHYPEN news
,
ENHYPEN updates
,
ENHYPEN NI-KI
,
ENHYPEN NI-KI news
,
ENHYPEN NI-KI updates
,
NI-KI
,
NI-KI news
,
NI-KI updates
,
HYBE
,
HYBE Labels
,
Big Hit Entertainment
,
TXT
,
TXT news
,
TXT updates
,
Tomorrow x Together
,
Tomorrow x Together news
,
Tomorrow x Together updates
,
txt yeonjun
,
txt yeonjun news
,
txt yeonjun updates