Sexualization In Military Events, Netizens React During STAYC's VLIVE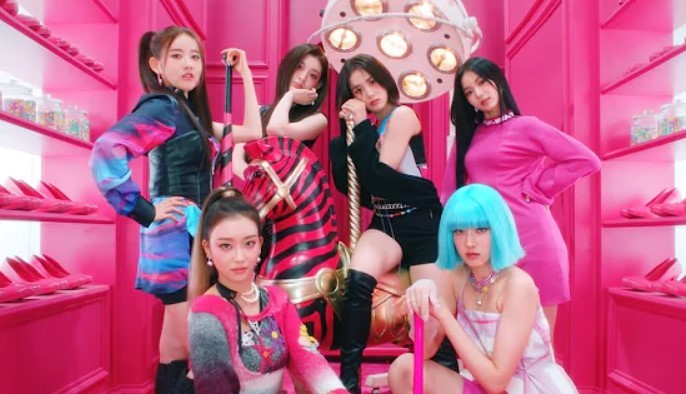 Recently, STAYC members Yoon and J went to VLIVE to spend time with their fans. It was just a usual VLIVE not until one fan made a comment.
While the two STAYC members were doing their VLIVE, one fan with "No Name" left a comment saying he is a soldier who watches STAYC's recent song "ASAP" videos at least three times a day. Moreover, the fan expressed his love for the girls and invited them to perform in the military.
After seeing the fan's comment, STAYC member Yoon was delighted to know that soldiers in the military are watching them. She then shared that her father is a military officer and expressed her gratitude towards the fan.
Yoon then sent out a heart towards the fan and replied to the comment, "Thank you! If it weren't for the pandemic situation, we could have gone to perform there... We want to perform live concerts and stuff, but we can't right now."
However, right after Yoon made the statement, some fans flood the comment section. They expressed their disapproval towards the comment of the soldier while pointing out that it was so wrong to ask a minor to perform at a military event. Some fans also claim that girl groups who go and perform at military events are prone to sexual harassment. Moreover, numerous fans began to ask the STAYC members not to perform at military events.
Due to the numerous comments, Yoon quickly assured fans that they were not talking specifically about military events and just mean concerts in general. Yoon also asked fans not to worry.
Here are some comments left by fans on STAYC's VLIVE:
"Jayoon we love you, you've done nothing wrong. Swith will support StayC all the way."
"LOVE YOU YOON !! YOU DID NOTHING WRONG "
"It's been a while since we've been into this group. I won't stop you, young Femis, whatever you do, because your life is all about you, but don't try hard to stop the group from seeing the light."
What do you think about this? Should girl groups, especially minorsl, avoid performing at military events? Share your thoughts.
© 2023 Korea Portal, All rights reserved. Do not reproduce without permission.