What SM Entertainment Made aespa Do To Prepare For Their Unique Group Concept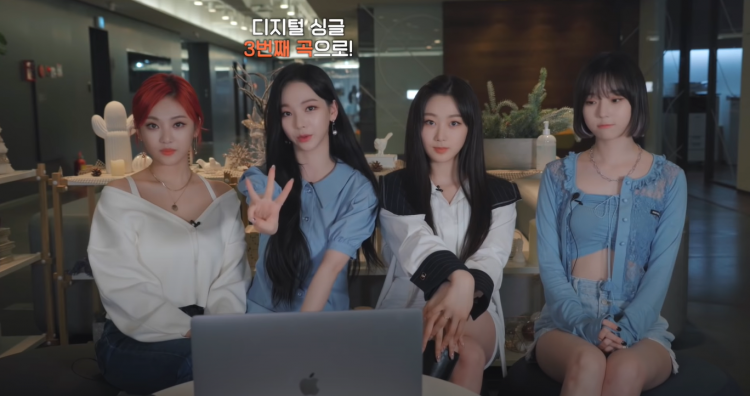 During SM Entertainment's aespa's debut last year, the K-pop girl group made headlines due to their new concept, being their AI concept. Recently, the members of aespa opened up how dedicated and serious they were to perfecting their concept as best as they can.
In a recent online press conference which was for the commemoration of aespa dropping their latest comeback single entitled "Next Level," SM Entertainment's aespa went on to spill on their unique storyline concept.
Talking about their AI concept and noted SMCU storyline, aespa's Winter spoke up about how her group was able to break boundaries and show their unique side.
aespa's Winter shared, "Using the storyline, aespa is able to have our own unique color and style so we are really happy and are looking forward to our future activities."
Additionally, aespa's Giselle also mentioned facts about their concept. Giselle even went on to hint at a continuation of the storyline aespa already began.
"The next story after our song 'Next Level' will continue to unfold, so please stay tuned for it," aespa's Giselle added.
The leader of aespa, Karina, added that the members of aespa had been trained by SM Entertainment for a long time with their current storyline in mind. aespa's Karina went shared how proud she was of the hard work SM Entertainment made aespa go through.
"We have received training for this for a really long time from our agency. We had to understand the concept in order to promote it so we educated ourselves on the storyline of aespa as if we were taking classes. We are currently in a state of complete understanding," aespa's Karina expressed.
Notably, aespa's hard work was able to garner positive results. aespa's Karina expressed that the members of aespa are really feeling their concept, even believing that aespa is an eight-member group.
aespa's Karina concluded, "Ae and aespa opens the force and enters the real world. We spend time together during those moments. Ae's were created based on our data so we are able to understand each other well even if we do not work together. We are an eight-member girl group."
SM Entertainment really is revolutionary as it made sure to train and guide aespa well into incorporating its AI concept. Now they are one of the most in-demand rookie K-pop groups at present.
© 2023 Korea Portal, All rights reserved. Do not reproduce without permission.
Tags:
kwave
,
kwave news
,
kwave updates
,
Kpop
,
kpop news
,
Kpop updates
,
SM
,
SM artists
,
SM Entertainment
,
SM Entertainment artists
,
SM Entertainment news
,
SM Entertainment updates
,
SM Entertainment aespa
,
aespa
,
aespa news
,
aespa updates
,
aespa Next Level
,
Next Level
,
aespa comeback
,
aespa concept
,
aespa latest single
,
aespa single
,
aespa Karina
,
aespa Giselle
,
aespa Winter
,
karina
,
Giselle
,
winter
,
aespa training
,
Rookie of the Year aespa
,
rookie
,
kpop rookies