IZ*ONE Not Disbanding? A Million Dollars Raised By WIZ*ONE's Via Crowdfunding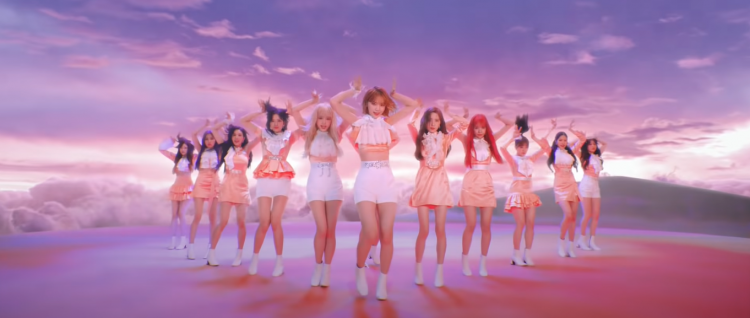 Multiple WIZ*ONEs, the fandom name of IZ*ONE, have lately opened up the crowdfunding project called "Parallel Universe Project."
The crowdfunding wants to attain funds so that IZ*ONE will relaunch instead of disbanding, which will happen very soon.
Within 10 minutes of making the crowdfunding project open, approximately 73% of the initial goal was already attained. Around 737 thousand Korean won, which is around $700,000 US dollars was reached.
The amount was only raised by South Korean WIZ*ONEs only due to the fact that global funding was not available.
On the online community, theqoo, domestic WIZ*ONEs shared that after just 21 minutes,1.2 billion Korean Won, approximately 1 million US Dollars, was already attained, which is 120% of the initial goal.
The "Parallel Universe Project" crowdfunding wants to reach out to multiple other companies for meetings via a crowdfunding agency that sends help to fans to make their dreams for their K-pop idols, called MakeStar.
The crowdfunding project is announced to have a three-step plan.
Initially, the "Parallel Universe Project" will contact all of the individual companies that hold the multiple members of IZ*ONE and make use of the funding to open up negotiations.
Second, the frontrunners of the project will hand out to fans who have helped fund the crowdsourcing project virtual certificates so that they have proof that they helped in the project.
Third and lastly, the frontrunners will personally send an email to those that help fund the crowdsourcing project with the results of the discussions with the individual companies as well as any and all information with regards to the goal.
The funding is still ongoing, but through this, regardless of the outcome, WIZ*ONEs can be known as one of the most loyal fan bases to have ever existed.
Fingers crossed to this project will be able to go far in helping IZ*ONE relaunch and not disband.
To read where fans expect the members of IZ*ONE to go if they disband, click here.
© 2023 Korea Portal, All rights reserved. Do not reproduce without permission.
Tags:
kwave
,
kwave news
,
kwave updates
,
Kpop
,
kpop news
,
Kpop updates
,
swing entertainment
,
swing entertainment news
,
swing entertainment updates
,
swing entertainment IZ*ONE
,
IZ*ONE
,
IZ*ONE news
,
IZ*ONE updates
,
IZ*ONE Disbandment
,
Will IZ*ONE disband
,
WIZ*ONE
,
Parallel Universe Project
,
Crowdfunding
,
IZ*ONE not disbanding?
,
IZ*ONE might not disband?