Staff Allegedly Took Hidden Photos Of aespa's Winter, Fans Bombard SME With Emails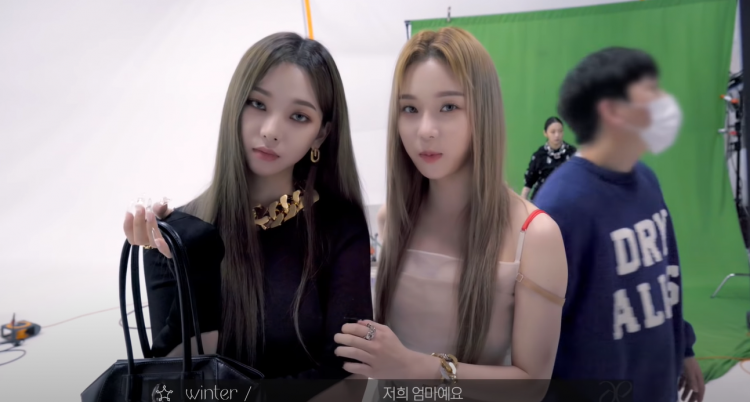 Loyal fans of SM Entertainment's aespa were in a frenzy due to a previous alleged issue that was founded on Twitter.
A Korean fan who was viewing the behind-the-scenes video of an aespa photoshoot (at the 8:56 mark) previously believed that a photoshoot staff that was walking behind the K-pop girl group seemed to have his phone angled in a weird way, pointing towards the girls.
Fans automatically assumed that the photographer was trying to take hidden photos of aespa. This prompted fans to bombard SM Entertainment with emails to notify the agency.
The previously uploaded video on Twitter as proof has since been deleted.
Moreover, a fan called SM Entertainment directly to make a report on the alleged incident. After this, the fan was told that her report would be sent directly to the person in charge for review.
In addition, the fan who called also told other MYs (fandom name of aespa) to message and call the customer center with the same message the fan gave, including the previously mentioned video, which is no longer available, to make SM Entertainment respond faster.
To put fans at ease and to clear the alleged photographer SM Entertainment has dropped an official statement with regards to the scandal with regards to aespa's Winter.
An SM Entertainment representative has confirmed that the alleged issue was all a misunderstanding, and no hidden photograph was taken.
Sm Entertainment's statement is as follows:
"We have confirmed that the photographer in charge of the shoot, who appeared in the video in question, did not do what he was misunderstood of. Winter, of course, enjoyed the photoshoot back then, and there were no incidents that were unpleasant nor were there any situations that could be misunderstood."
Furthermore, SM Entertainment gave their gratitude to MYs for being keen with regards to keeping their idols safe. Moving forward, SM Entertainment hopes that in the future, no more misunderstandings will occur.
© 2023 Korea Portal, All rights reserved. Do not reproduce without permission.