Latest Guest On IU's 'Palette', Gong Yoo, Predicted IU's Future In The Past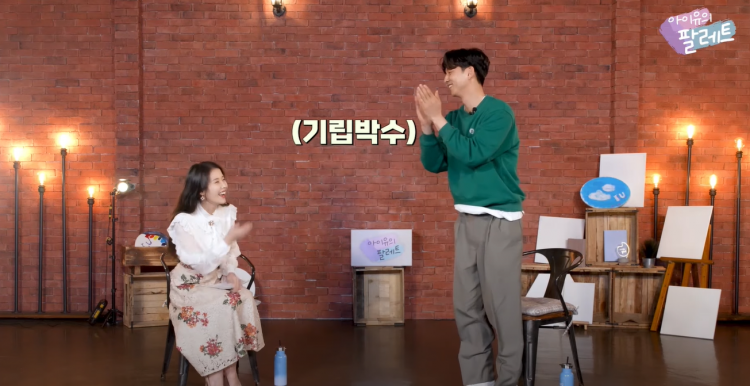 One of the most popular and influential K-pop artists of this generation is EDAM Entertainment's very own, IU. Not only can she sing, dance, write, and act, IU can also host very well. This can be seen in IU's personal show, "Palette."
IU's "Palette" is a tremendously fun talk show that is garbed in a relaxing and friendly atmosphere. "Palette" is very peaceful and enjoyable to watch due to its mixing humor alongside the questions IU asks her guests. Moreover, the guests usually cover songs, and IU sings alongside them.
Aside from that, IU also provides other entertainment such as food while she converses with her guests.
The first episode of IU's show "Palette" was uploaded on IU's agency's (EDAM Entertainment) official YouTube channel. Subsequently, the following episodes were uploaded directly on IU's personal YouTube channel.
IU's "Palette" has always had star-studded guests since it aired. Uaena's were already treated in the first episode with Jukjae as the guest, followed by Loco in episode 2, Lee Seung Gi in episode 3, Byun Yo Han in the 6th episode, and IU herself as her own guest in the 7th episode.
Aside from K-pop soloists and actors, K-pop groups ITZY and SHINee also made a group guest appearance on the 4th and 5th episode, respectively.
Recently, another bombshell of a guest made an appearance on IU's show. The South Korean allrounder actor, Gong Yoo himself. He became a guest on the most recent episode, which was uploaded on the 14th of April.
At the start, Gong Yoo introduced himself and revealed his ties with IU by stating, "I'm Gong Yoo and I've been IU's long-time fan. I'm not sure if she remembers, but we met a long time ago. I just missed her so much, it's nice to be here."
IU then recalls that previously, around 10 to 12 years ago, after hearing her sing with the guitar, Gong Yoo remarked that in 10 years, she'd become a well-known composer.
IU even noted that the way Gong Yoo stated it was like a prediction. Safe to say, aside from being an immortal general and a Zombie (among others), Gong Yoo is also a talented fortune-teller.
© 2023 Korea Portal, All rights reserved. Do not reproduce without permission.
Tags:
Kpop
,
kpop news
,
Kpop updates
,
kwave
,
kwave news
,
kwave updates
,
Edam Entertainment
,
Edamt Entertainment news
,
Edam Entertainment updates
,
Edam Entertainment IU
,
IU news
,
IU
,
IU Updates
,
IU Palette
,
IU show Palette
,
IU show
,
IU shows
,
Palette
,
Gong Yoo
,
Gong Yoo News
,
Gong Yoo Updates
,
IU and Gong Yoo
,
Palette Gong Yoo