'Memories Of The Alhambra' Episode 9 Spoilers: Se Joo Is Alive; Ji Woon Faces Threat Of Losing His Company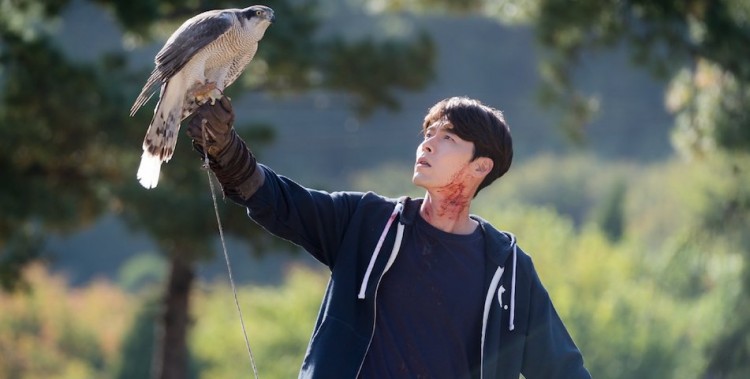 Jung Se Joo will finally reach out to his sister, Hee Joo, in the upcoming Memories Of The Alhambra Episodes 9. This proves that Jin Woo is telling the truth that her brother is still alive.
In the upcoming episodes, it looks like Jin Woo (Hyun Bin) and Hee Joo (Park Shin Hye) will work together to find Se Joo (EXO member Chanyeol). In the previous episode, Hee Joo travels to Granada, Spain to look for her brother. The teaser for Episodes 9 and 10 suggests that Jin Woo will also go to Granada.
Jin Woo has found another proof that Se Joo is alive when he acquired a special weapon after his last fight. The took a Citadel's hawk and the game inform him that a messenger from "master" has arrived, suggesting that the bird is actually a messenger from the "master" which happens to be Se Joo.
Before he returns to Granada, the CEO of J One Holdings asks his head of R&D team, Choi Yang Joo (Jo Hyun Chul), to prepare some items for him. The items could be in preparation for what he is about to encounter when he proceed with the game. Jin Woo is already at level 90.
Jin Woo knows that both game developers, Se Joo and Marco, stopped playing their game when they reached the levels 94 and 92, respectively. Marco was later found dead while Se Joo is still missing. Who killed Marco and to whom Seo Joo is running away from is still unclear.
Jin Woo will travel back to Granada after he receives a message from the master through the hawk. The teaser shows Jin Woo holding a small scroll that the hawk delivers from the master. The scroll may contain Se Joon's message to Jin Woo to meet him in Granada.
It looks like Se Joo will show himself to Jin Woo. The teaser for Episodes 9 features Jin Woo in the train station platform and a man is about to approach him.
Meanwhile, J One Holdings Business Strategy Director Park Son Ho (Lee Seung Joon) and Professor Cha (Kim Eui Sung) are planning to oust Jin Woo as CEO of his company. Jin Woo earlier ordered his director to delay the launch of the game.
He wants to evaluate the game further as it is still unclear to him how his former friend, Cha Hyung Seok (Park Hoon), died after he defeated him in the game. He also wants to reach the level that the game developers had reached before they both stopped playing and later on disappeared.
Obviously, the Director Park and Professor Cha don't want to delay the launch due to the profit the company may gain from it. Many are already anticipating the official release of the game after it has been tested by a few gamers. Memories Of The Alhambra Episodes 9 airs on December 29 at 9 p.m. KST on tvN. The fantasy/romance K-drama airs every Saturdays and Sundays.
© 2023 Korea Portal, All rights reserved. Do not reproduce without permission.