'Memories Of The Alhambra' Episode 5 Spoilers: Jin Woo Is Scared; Dead Hyun Seok Keeps on Hunting His Friend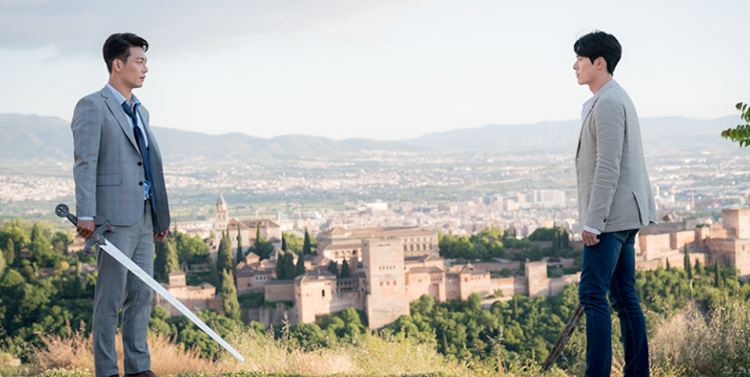 Yoo Jin Woo is no longer enjoying the virtual reality game in the tvN drama Memories Of The Alhambra. He is now being hunting by his dead former friend, Cha Hyung Seok. Jin Woo needs to find out how he keeps on seeing Hyung Seok when he is already dead.
After acquiring Hostel Bonita from Jung Hee Joo (Park Shin Hye) for 10 billion won, Jin Woo (Hyun Bin) traveled back to Korea but a tragic news brought him back to Granada. Cha Hyung Seok (Park Hoon), his former best friend and now husband of his ex-wife, has died. Hyung Seok was found dead on a bench in the park where he and Jin Woo had a game duel.
Apparently, Hyung Seok died of severe blood loss but the initial examination of his body showed no external wounds. The mystery surrounding Hyung Seok's death becomes more complicated after he appeared in the park and at Hostel Bonita. In both scenarios, he tried to kill Jin Woo. He attacked Jin Woo in the hostel and wounded him with his sword.
In the upcoming episode, Jin Woo is getting paranoid that Hyung Seok will show up again to kill him. At the hospital where he was rushed after falling from the sixth floor of the Hostel Bonita, Jin Woo is contemplating if Hyung Seok is really dead. If he is, why he keeps on returning in the game?
It will also be revealed in Episode 5 that the song "Memories Of The Alhambra" is connected to the VR game. Whenever Jin Woo hears a guitar playing the song, the dead Hyung Seok appears and fights with him.
In the teaser for Memories Of The Alhambra Episode 5, Jung Hee Joo will visit Jin Woo in the hospital. But before she could enter Jin Woo's room, the latter hears the song playing again. He shouted on Hee Joo not to enter his room in fear that Hyung Seok will also come in. He doesn't know that Hyung Seok is already standing next to Hee Joo.
Despite his injuries, Jin Woo might not stay long in the hospital and just let Hyung Seok kill him. It is expected that he will dig deeper on Jung Se Joo's (EXO member Chanyeol) game and will look for the missing genius programmer. He may possibly ask for Hee Joo on how to find her brother.
Memories Of The Alhambra airs every Saturday and Sunday at 9 p.m. KST on tvN. It is also available via Netflix.
© 2023 Korea Portal, All rights reserved. Do not reproduce without permission.