'The Last Empress' Episodes 13 & 14 Spoilers: Oh Sunny Shows Off Authority As Empress; Yoo Ra In Prison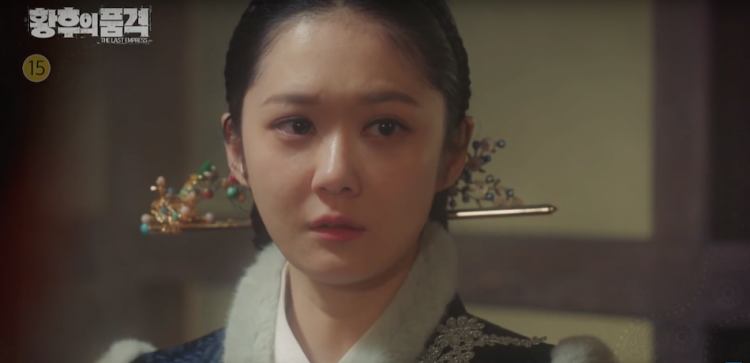 Min Yoo Ra might feel the rage of Empress Oh Sunny or possible Grand Empress Dowager Jo for having an illicit affair with the emperor. In the upcoming The Last Empress Episodes 13 and 14, Yoo Ra is seen in the palace jail and she could have been sent there by the new Empress.
Oh Sunny (Jang Na Ra) has finally found out that her husband, Emperor Lee Hyuk (Shin Sung Rok), is having an affair with the head secretary of the royal family, Min Yoo Ra (Lee Elijah). She saw Lee Hyuk herself kissing Yoo Ra while on board the royal yacht.
Na Wang Sik, a.k.a. Chun Woo Bin (Choi Jin Hyuk), showed the Empress what her husband has been doing behind her back. Woo Bin has his own agenda for telling Oh Sunny about her husband and Yoo Ra's relationship.
Woo Bin earlier found out that Yoo Ra, the woman he loved, is actually the one who hit his mother with a stone before she was bumped by the Emperor's car. Woo Bin also learned that Yoo Ra also knew about the Emperor's order to kill Wang Sik.
In the upcoming The Last Empress Episodes 13 and 14, it looks like Oh Sunny will pretend at first that she doesn't know about the affair as she is seen attending an official event with Emperor Lee Hyuk. However, it seems like she will take her rage to Yoo Ra.
Woo Bin is seen pulling Oh Sunny in his arms and tells her not to suppress her anger. This could possibly lead to Yoo Ra ending up in prison. In the teaser for the upcoming episode, Yoo Ra is seen crying while being held up at the palace prison. It appears like Oh Sunny orders her arrest as she is seen meeting Woo Bin outside the prison.
Meanwhile, The Last Empress also shared some still photos of Oh Sunny talking to Princess Ari's nanny, Seo Kang Hee (Yoon So Yi). The images suggest that Kang Hee is asking a favor from Oh Sunny as she is seen in one photo kneeling before the Empress.
It can be recalled that Oh Sunny told Princess Ari to treat her nanny with respect. However, Seo Kang Hee told the empress that the young princess has the right to scold her because she is a member of the royal family.
In the previous episode, it was also revealed that Princess So Jin (Lee Hee Jin) is not Princess Ari's birth mother. It was actually her nanny, Seo Kang Hee. The Last Empress airs Wednesdays and Thursdays at 10 p.m. KST on SBS.
© 2020 Korea Portal, All rights reserved. Do not reproduce without permission.