'Memories Of The Alhambra' Episodes 7 & 8 Spoilers: Jin Woo Attends His Friend's Funeral; Hee Joo Brings Hostel Business In Korea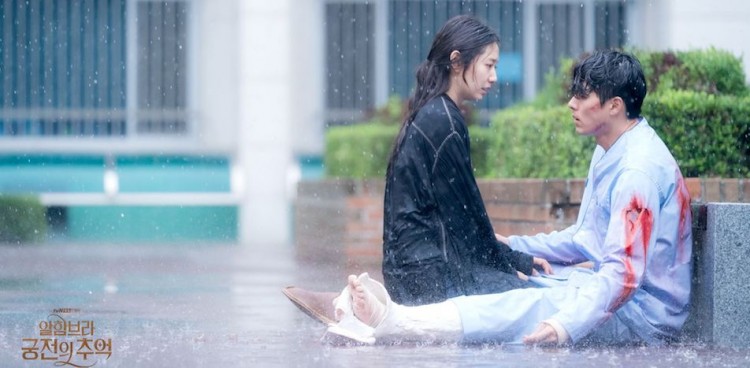 After his painful yet adventure-packed stay in Granada, it looks like Yoo Jin Woo has finally accepted the fact that there is no point on killing Cha Hyung Seok in the game as he will return over and over again. Jin Woo has realized that his former friend will only stop hunting him if he dies. In the upcoming Memories Of The Alhambra Episodes 7 and 8, Jin Woo is back in South Korea.
In his crutches, Jin Woo (Hyun Bin) attends the funeral of his friend, Hyung Seok (Park Hoon). Professor Cha (Kim Eui Sung), however, will treat him differently at the memorial service.
Murder is earlier ruled out on Hyung Seok's death since there are no signs of external wounds on his body. But the investigators found that the CEO of IT company New Word Soft died on the same time he and Jin Woo meet at the park. Some fingerprints of Jin Woo were also found on Hyung Seok's neck and collar.
Moreover, Jin Woo said "I am sorry" to Professor Cha after he had hallucination in the hospital and realized that he actually caused Hyung Seok death. All of these made Cha think that Jin Woo might have killed his only son although it is still unclear to him on how he did it.
Meanwhile, Jung Hee Joo (Park Shin Hye) will bring her family back in South Korea in the upcoming Memories Of The Alhambra Episodes 7 and 8. She will start her tourist lounging business in the country. It looks like she will name her new place as "Emma" as seen in the teaser for the upcoming episode.
Jin Woo hasn't forgotten Hee Joo even though he left Granada without saying goodbye to her. He will ask someone about Hee Joo and he will be told that she is already in South Korea. The two will meet again at Hee Joo's new hostel.
As for the Augmented Reality (AR) game that was developed by Hee Joo's brother, Jung Se Joo (EXO's Chanyeol), it will be introduced to the public. In the teaser for Episodes 7 and 8, an announcer can be heard saying that the game will kick off in major cities around the world.
It looks like Jin Woo will still play the game in South Korea but he might still be dealing with his hallucination. The sneak peek suggests that he might also turn to alcohol to cope with his mental issues. Memories Of The Alhambra airs every Saturdays and Sundays at 9 p.m. KST on tvN.
© 2023 Korea Portal, All rights reserved. Do not reproduce without permission.