Netizens Stunned As LE SSERAFIM Fans Ignore Kim Garam's Name During Recent Fanchant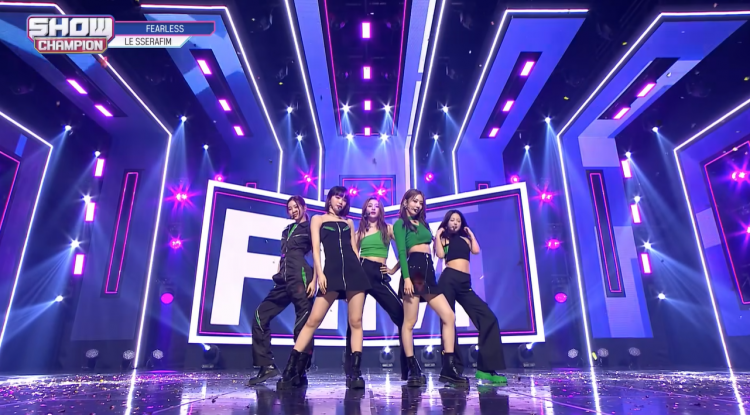 Prior to debuting with LE SSERAFIM, Kim Garam was already mired with school bullying allegations. Hearing this, the public became upset with the claims and due to this, the idol is currently on a hiatus.
READ: Netizens React To LE SSERAFIM Chaewon's Adorable Mistake On A Livestream
Since Kim Garam's break, the other five members of LE SSERAFIM have been promoting. They are slowly gaining praise from netizens for their stance on the matter, being immensely professional.
Notably, HYBE Labels and Source Music are not planning on removing Kim Garam from LE SSERAFIM despite the outcry from netizens. Thus, it seems like some fans have found a new way to voice their opinions to have Kim Garam removed from the girl group.
LE SSERAFIM recently performed on "Show Champion" their debut song "FEARLESS." In their performance, Chaewon, Sakura, Yunjin, Kazuha, and Eunchae flexed their vocal skills and dance moves on stage.
READ: Industry Scandal: Police Investigates LE SSERAFIM's Win Over Lim Young Woong On 'Music Bank'
But instead of having a normal performance, viewers noticed something out of place. Some netizens found out that the fans who were in the audience left out Kim Garam's name from LE SSERAFIM's fanchant.
i thought the fan chant was over like https://t.co/zG0QmyKdGH pic.twitter.com/6mLF4rCova — michelle (@proyunjin) June 1, 2022
During the final chorus of LE SSERAFIM's "Show Champion" performance, fans were shouting Chaewon, Sakura, Yunjin, Kazuha, and Eunchae names on stage. But they ended up giving a silent pause between Kazuha and Eunchae's names, stunning netizens.
Viewers shared that the fans' silence was quite deafening during LE SSERAFIM's "Show Champion" performance.
But some viewers believe that Kim Garam's name was removed as she's on hiatus. They hoped that if she returns with LE SSERAFIM more netizens would say her name.
Check out LE SSERAFIM's "Show Champion" performance here:
© 2022 Korea Portal, All rights reserved. Do not reproduce without permission.
Tags:
Show Champion
,
Show Champion news
,
Show Champion updates
,
LE SSERAFIM Show Champion
,
Show Champion LE SSERAFIM
,
LE SSERAFIM
,
LE SSERAFIM news
,
LE SSERAFIM updates
,
LE SSERAFIM Kim Garam
,
LE SSERAFIM Kim Garam news
,
LE SSERAFIM Kim Garam updates
,
LE SSERAFIM Garam
,
LE SSERAFIM Garam news
,
LE SSERAFIM Garam updates
,
Kim Garam news
,
Kim Garam
,
Kim Garam updates