Amazon Pilots A Program That Has Gig Drivers Delivering Packages From Malls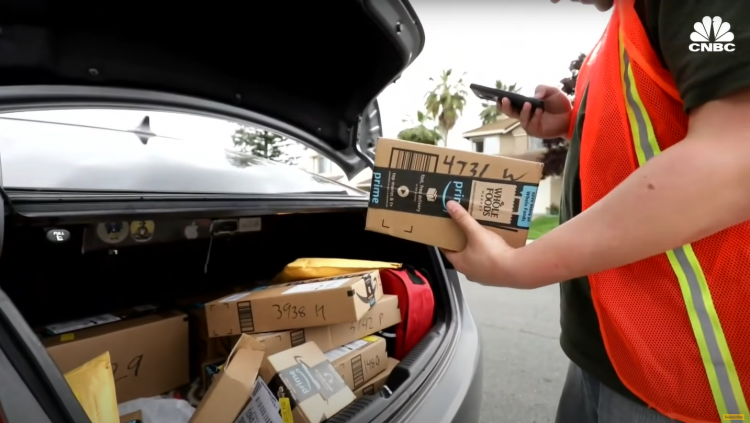 Amazon is ushering in a delivery program wherein contracted Flex drivers can pick up and deliver packages from malls, according to a Bloomberg report. The program has been running since last year and could potentially assist in fulfilling orders more quickly.
"This is just another way we are able to connect Amazon sellers with customers via convenient delivery options," says Amazon spokesperson Lauren Samaha in an email to The Verge. Samaha mentioned that a handful of sellers are already participating in the program.
The locations that have the service available are still unspecified, however. As relayed to Bloomberg, drivers cite that they've picked up packages from malls located around Chandler, Arizona, Las Vegas, Nevada, and Tysons Corner, Virginia.
READ: Amazon's Ad-supported Streaming Service Freevee Will Have A Dedicated App On Apple TV
Amazon's Flex drivers use their own vehicles to deliver the packages. They usually retrieve the packages from Amazon's delivery stations, but there's also added option to pick up packages from local stores, which has already been an available alternative for years, says Samaha. Mall deliveries operate in the same fashion. The only difference is that drivers will go to stores within local shopping centers to collect packages.
Vox made an earlier report this month that Amazon has been quietly testing a delivery service that commissions rural mom-and-pop shops to deliver packages for the company. In that arrangement, local businesses become sort of like the post office as packages get dropped off almost every day, and the workers are assigned to deliver them within a 10-mile radius.
READ: Amazon's Project Kuiper Might Take On SpaceX In The Satellite Internet Business
Amazon initially relied on the US Postal Service and UPS for the final portion of deliveries (packages physically reaching the customers' doorsteps). Giving local stores that task could decrease the need to involve either service.
© 2023 Korea Portal, All rights reserved. Do not reproduce without permission.