Recent 'Proof' Of LE SSERAFIM Kim Garam' School Bullying Scandal Supposedly 'Proves' Her Guilt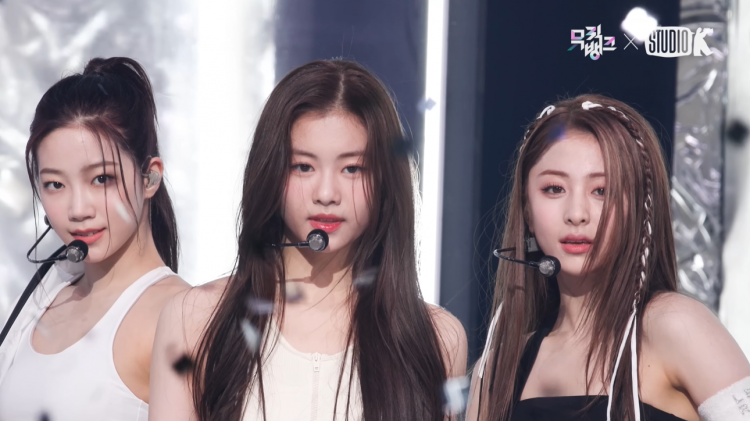 Could the recent evidence revealed online condemn LE SSERAFIM's Kim Garam of previous school violence allegations? Find out here.
READ: All For One, LE SSERAFIM Members Assure Kim Garam That They Have Her Back
Just recently, evidence of LE SSERAFIM Kim Garam's school violence was posted on multiple online communities. This once again made netizens and K-Pop fans discuss the supposed issue regarding the rooking idol.
Notably, the evidence brought by a netizen is the "Notice of the Result of the School Violence Measures Committee." On the paper, it states: "Law of School Violence and Protection, clarifying measures of Law 16 and 17 of the 2018-3."
The Law of School Violence and Protection is to protect victims, seeing the harshness of the school violence. Written on the paper, the netizen showed the victim's grade which stated, "First Grade, Class 3."
READ: Odd Woman Out, LE SSERAFIM Showered With Compliments In Live Performance Except For One Member
Surprisingly, the name of the perpetrator written on the paper was: "First Grade, Class 3 XXX, Kim Garam." Due to this, LE SSERAFIM's Kim Garam was once again caught in the middle of school violence allegations.
translation for anyone looking. this is serious. hybe needs to make a statement. https://t.co/Y1c3mMB33t pic.twitter.com/n3CGPUxDq1 — jayla (@WONYOTING) May 15, 2022
Almost immediately after the document went viral on multiple social media platforms, discussions among netizens and K-Pop fans once again began. Though some fans of LE SSERAFIM's Kim Garam defended her. A majority of people believe it could be true, given the testimonies adding more depth to the allegation.
Though there are suspicions that the document is fake, some netizens share that the notice could be true since forging documents in Korea is a very serious crime, even more so if used for defamation.
READ: Going Out Of Hand, LE SSERAFIM's Kim Garam Criticized By Netizens For Absurd Reason
HYBE and Source Music have not yet commented on the recent school violence "proof" against LE SSERAFIM's Kim Garam.
© 2023 Korea Portal, All rights reserved. Do not reproduce without permission.
Tags:
kwave
,
kwave news
,
kwave updates
,
Kpop
,
kpop news
,
Kpop updates
,
Source Music
,
Source Music artists
,
Source Music news
,
Source Music Updates
,
Source Music LE SSERAFIM
,
Source Music LE SSERAFIM Garam
,
Source Music LE SSERAFIM Kim Garam
,
Source Music Kim Garam
,
Source Music Garam
,
LE SSERAFIM
,
LE SSERAFIM news
,
LE SSERAFIM updates
,
LE SSERAFIM Kim Garam
,
LE SSERAFIM Kim Garam news
,
LE SSERAFIM Kim Garam updates
,
LE SSERAFIM Garam
,
LE SSERAFIM Garam news
,
LE SSERAFIM Garam updates
,
HYBE
,
HYBE news
,
HYBE updates
,
HYBE artists
,
HYBE LE SSERAFIM
,
HYBE Labels LE SSERAFIM
,
Kim Garam
,
Kim Garam news
,
Kim Garam updates
,
Garam
,
Garam news
,
Garam updates