Windows 11 Will Obtain New Touch Gestures, Start Menu Folders, And More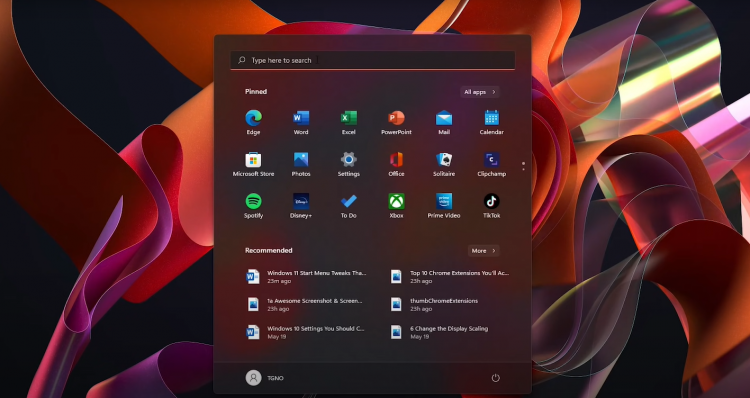 Microsoft is delivering new touch gestures, Start menu folders, and lots more features to Windows 11. A new build of the operating system is already available to testers brimming with new features that are designed to significantly improve the overall usability of Windows 11.
Firstly, Microsoft is adding five new touch gestures to Windows 11 soon that'll hopefully make it easier to use tablets. Two of the new gestures let users swipe up on the taskbar to bring out the Start Menu and swipe down to dismiss it. The gestures can be done between all apps, both pinned and recommended, or more on the Start menu
READ: Instagram Is Experimenting On A Pinned Grid Post Feature
A third gesture lets you swipe from the bottom right of the taskbar to reveal the Quick Settings menu (which usually contains the immediate icons for toggling Airplane mode or Bluetooth). Animations for raising up the Notification Center have also been improved, and there's a new full-screen gripper in touch-oriented apps that will prevent you from accidentally swiping from the edges of a tablet screen. Rotating your device between portrait and landscape orientation is getting also "snapper" and "more responsive" says Mircosoft.
For the Start Menu, users who enjoy pinning their favorite apps or tools there will be delighted to know that Windows 11 will soon let users customize the pinned section of the Start menu into folders. Simply dragging one app over another will file both into a folder. Users can freely rearrange apps within folders or remove them. The option to rename the folder is coming in future builds.
Additionally, the new Snap Layouts feature of Microsoft in Windows 11 will also see an upgrade, letting users drag an app to the top of a window to reveal all its possible layouts. The company will also improve the Focus feature to include a Do Not Disturb mode which generally silences notifications quickly according to preference.
READ: Microsoft's Edge Browser Will Offer A Free Built-In VPN
Live Captions will soon be built into Windows 11 and can be easily activated with a Winkey + CTRL + L shortcut. This feature will greatly benefit people who are deaf or hard of hearing and is also available for anyone to use as it'll be automatically generated on-device from any content that includes audio. Captions may float in a window or be displayed at the top or bottom of a screen.
All these new Windows 11 features are still in testing at the moment. Some of them will likely show up in upcoming monthly updates throughout 2022. Microsoft had just delivered Windows 11's first big update with the company revealing it won't wait to bring new features just once a year.
© 2022 Korea Portal, All rights reserved. Do not reproduce without permission.