A Sprinkle Of Talent & Taste: Male K-Pop Idol Chefs & Their 'Signature Dishes'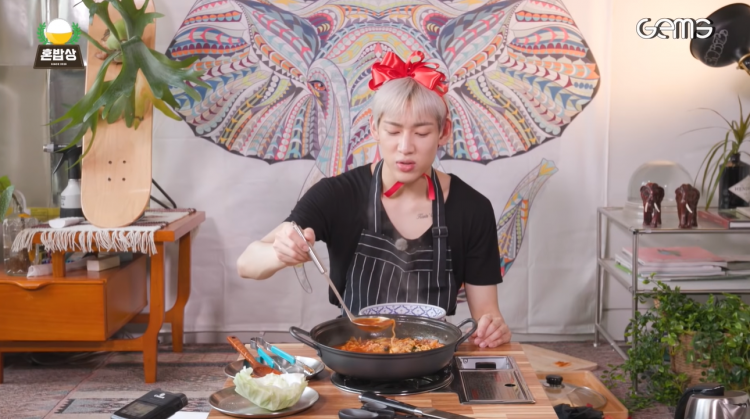 Similar to their fans, K-pop idols also have certain hobbies. Some artists go on to share their hobbies to have a closer connection with netizens. Specifically, sports, arts, and other physical hobbies garner the attention of their fans the most.
READ: Food & Content Overload: The Most Popular Korean Mukbang & ASMR YouTubers Of 2022
But one specific hobby is not only interactive but also a sensation to the senses and it includes food. Although most K-pop idols cook, there are specific artists who are on the chef-tier level in terms of cooking.
Among the K-pop boy group members, here are male idol chefs who have must-try recipes:
GOT7 BamBam
Chef BamBam of GOT7 has an unending array of talents under his sleeve, and among them is being a good cook. Undeniably, all the K-pop idol's recipes are amazing, but BamBam's recipe for Som Tam & Fire Jjamppong Ramyun is simply 'chef's kiss'.
iKON Song
Song's vocals are as smooth as his cooking. The iKON member showcases his skill in the kitchen on his YouTube channel "송슐랭 가이드 - SONGCHELIN GUIDE" and among his most popular dishes is his recipe for basil pesto pizza.
NCT Kun
NCT's very own Kun not only brings the flare on stage but also in the kitchen. This male idol chef is very keen in the kitchen with a myriad of tips and tricks. Kun's recipe for Chinese-style braised fish is not only mouth-watering but also a must-try for all seafood enthusiasts.
NCT Taeil
Taeil is the second member of SM Entertainment's NCT on this list. This male K-pop idol has a plethora of Korean cuisines under his belt. Taeil's talent in K-pop can easily be translated on a plate as his pork belly pasta is to die for.
READ: The Best Korean Street Foods To Satisfy Your Craving Taste Buds
© 2023 Korea Portal, All rights reserved. Do not reproduce without permission.
Tags:
kwave
,
kwave news
,
kwave updates
,
Kpop
,
kpop news
,
Kpop updates
,
kfood
,
kfood news
,
kfood updates
,
kpop chef
,
kpop chefs
,
male kpop chef
,
male kpop chefs
,
male kpop idol
,
male kpop idol chef
,
male kpop idol chefs
,
GOT7
,
got7 bambam
,
bambam
,
iKon
,
iKON Song
,
Song
,
NCT
,
NCT Kun
,
Kun
,
NCT Taeil
,
Taeil