STAYs Laugh As Stray Kids' Changbin Hilariously Reacts To Height Difference With TXT's Yeonjun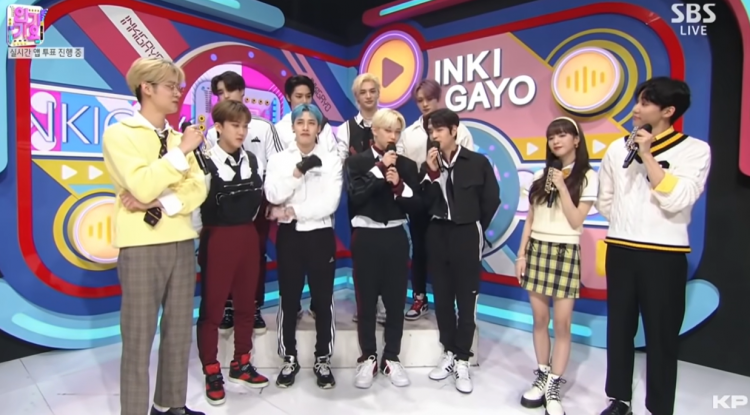 Just recently, TXT's Yeonjun became one of the new MCs for SBS's "Inkigayo" and one of the new K-pop artists he had the chance to have an interaction with was Stray Kids as the K-pop boy group was promoting their "Maniac" comeback.
K-pop fans were enjoying the back and forth between Yeonjun and Changbin but another thing they also noticed was the height difference. Notably, TXT's Yeonjun is known, aside from his talent, personality, and visuals, for his height and this was recently addressed by Changbin.
changbin giving a mini heart to yeonjun ㅋㅋㅋㅋ pic.twitter.com/j2AfimUBOf — 냠 (@ctrlhwng) April 3, 2022
In a recent live broadcast, Stray Kids' Changbin and I.N talked about the interview, through TXT's Yeonjun was not directly mentioned, Stray Kids talked about their "MC friend" and noted that their height difference is not that huge, blaming the camera instead.
"Usually, our height difference isn't to that extent, it's the camera's fault," Stray Kids' Changbin explained.
Stray Kids' Changbin then added that it was the angles of the camera that made the way the K-pop duo was seen. Changbin then explained that the comments about how he should drink milk to grow should, respectfully with TXT's Yeonjun, be stopped.
READ: 'It Won't Feel Right', Han Admits He Doesn't Want Stray Kids To Have A Specific Genre!
"The camera is to blame, and I know that friend's height is a bit over 2m, and I'm a bit lower than 2m, so that's why. There's no need for comments like, 'Because you didn't drink enough milk' You got the wrong person," Stray Kids' Changbin added.
Stray Kids' Changbin then further talked about the topic, explaining the fact that the height difference with TXT's Yeonjun was not realistic and was all due to the perception made by the camera. Stray Kids' I.N could be seen laughing after the comment was made.
When the video was shared, netizens couldn't get over just how close the two idols are because Changbin could speak about the interaction so openly. Many even pointed out that fan wars were unnecessary when idols loved each other this much.
© 2023 Korea Portal, All rights reserved. Do not reproduce without permission.
Tags:
kwave
,
kwave news
,
kwave updates
,
Kpop
,
kpop news
,
Kpop updates
,
stray kids
,
Stray Kids News
,
Stray Kids Updates
,
Stray Kids Changbin
,
Stray Kids Changbin news
,
Stray Kids Changbin updates
,
Changbin
,
Changbin news
,
Changbin updates
,
TXT
,
TXT news
,
TXT updates
,
txt yeonjun
,
txt yeonjun news
,
txt yeonjun updates
,
Yeonjun
,
Yeonjun news
,
Yeonjun updates
,
Yeonjun and Changbin
,
Changbin and Yeonjun
,
TXT and Stray Kids
,
Stray Kids and TXT
,
Inkigayo
,
Inkigayo news
,
Inkigayo updates