Viewers Melt As Kim Min-Gue & Seol In-Ah's Powerful Kiss In 'Business Proposal' Had An Ad-Lib Moment!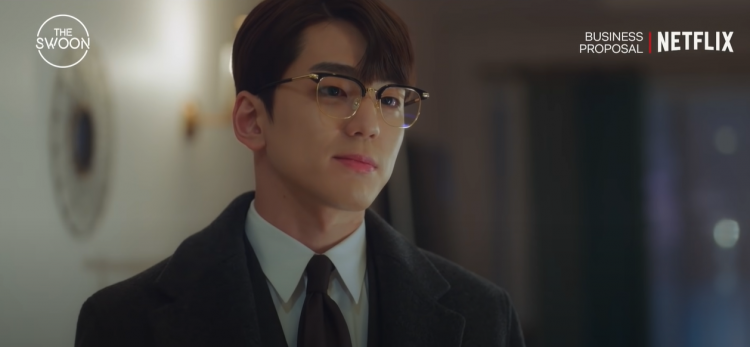 Who would have thought that such an amazing scene from SBS's series "Business Proposal" was not in the script?
A steamy scene from SBS's series "Business Proposal" was actually an ad-lib to the delight of netizens and K-drama fans. Actor Kim Min Gue and actress Seol In Ah recently made an appearance on SBS's "Cultwo Show," and the two talked all about their K-drama.
READ: Is Kim Sejeong Open To Dating Coworkers? 'Business Proposal' Star Spills The Tea!
In SBS's "Cultwo Show," Kim Min Gue went on to reveal that it was not intentional when he took off his character's glasses during his sweet scene on "Business Proposal." Initially, it started off as something simple, yet it immediately became one of the K-drama's most popular scene
"Originally, it wasn't intentional to take off the glasses. While shooting the scene, it was uncomfortable with glasses, so I took them off," Kim Min Gue revealed.
READ: Already Making Moves: Kim Sejeong Confirmed For A New K-Drama When 'Business Proposal' Concludes!
Furthermore, Seol In Ah then added just how sweet Kim Min Gue was in the K-drama scene as he also took them off for her. More specifically, Kim Min Gue explained that the glasses could be uncomfortable for Seol In Ah and might also wreck the actress's makeup.
Notably, the steamy scene in "Business Proposal" was so beloved by its viewers that a lot were surprised that a lot of scene from the K-drama was actually an ad-lib. Though fans are not upset rewatching the scene will surely give off more feelings.
READ: 'A Business Proposal' Actress Kim Sejeong Postpones Fanmeeting
Amazingly, it seems like the cast of "Business Proposal" have really made the program their own via their ad-libs. But the ad-libs really fleshed out the SBS K-drama more and it seems like fans will gave a better time rewatching the program.
© 2022 Korea Portal, All rights reserved. Do not reproduce without permission.
Tags:
Seol In Ah
,
Seol In-Ah news
,
Seol In-Ah updates
,
Seol In Ah
,
Seol In-Ah news
,
Seol In-Ah updates
,
Kim Min-Gue
,
Kim Min-Gue news
,
Kim Min-Gue updates
,
Kim Min-Gue
,
Kim Min-Gue news
,
Kim Min-Gue updates
,
kwave
,
kwave news
,
kwave updates
,
Kdrama
,
kdrama news
,
kdrama updates
,
SBS
,
SBS news
,
SBS updates
,
SBS kdrama
,
SBS Business Proposal
,
Business Proposal news
,
Business Proposal updates
,
Business Proposal